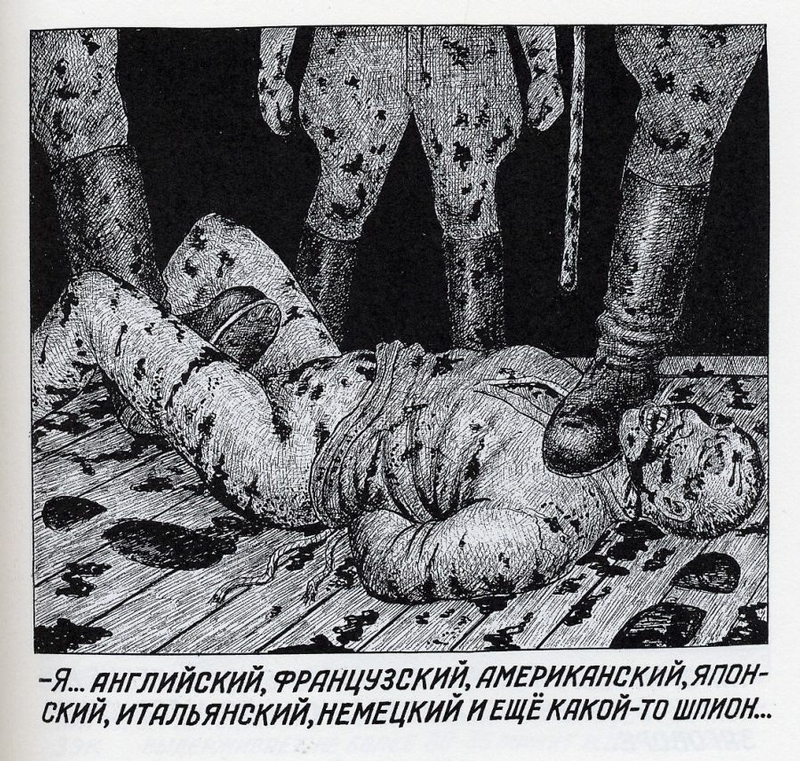 A false confession under torture: "I'm… an English, French, American, Japanese, Italian, German and maybe some other spy as well…" ("Drawings from the GULAG" by Danzig Baldaev, a former NKVD guard) 
Sergey Kovalev, a human rights activist who was once an inmate in the Perm camp memorialized by the only museum in Russia that had been devoted to GULAG victims, says that the shuttering of that institution and its replacement by a museum praising their jailers took place because Moscow doesn't want that "territory of freedom" to exist.
In an interview he gave to Open Russia's Roman Popkov, Kovalev says that the former museum was a place where for a decade Russians could come together to freely discuss the past and the present of their country. But Moscow doesn't need or want that and has closed the Perm-36 Museum to block it from happening.
Russian officials, he continues, claim that the grants the museum had received from abroad were from people who "are interested in the destruction of the country." And consequently, Kovalev says, "the liquidation of the Perm-36 Museum is part of a struggle with enemies the regime itself has invented."
The rights activist points out that under Stalin, Perm-36 was a very small camp, but later it became a special facility for the incarceration of former judges, prosecutors and militiamen who had committed crimes. Only in 1972 did it become a camp for political prisoners, most of whom were brought there from the notorious Mordvinian camps.
The difference in size matters, Kovalev says. Stalin-era camps were very large and the site of mass killings, but precisely because they were large, prisoners had a slightly easier time of it because their jailers could not supervise them as closely. Brezhnev-era camps were smaller – there were about 140 in Perm-36 when he was there — and inmates more closely monitored.
Russians should know this history, he continues, but the authorities did not close down the museum in the first instance "to destroy memory." Rather, Kovalev says, "the chief cause behind the liquidation of the museum… was because people called the Perm-36 Museum a territory of freedom."
Every year for the past decade, the museum held a festival attended by several thousand people and organized seminars in which no one felt constrained from "speaking the truth" about what had happened in Russia and what is happening now, Kovalev says. For the Putin regime, that was a real problem.
That they intended to go after the museum became obvious when stories began to appear in the Perm press saying that prisoners were treated well and featuring quotes from former jailers who said they were proud of their past service. They even suggested that he, Kovalev, had denounced others, assertions that were total falsehoods.
This was a clear signal, he continues, because earlier the Perm administration had helped the museum in significant ways; and what he does not say but what follows from this is that the decision to transform the museum from one about the victims to one about those who victimized them was not made there but higher up the power vertical.
Because the regional government never provided enough for the museum's operation and because grants from abroad did not cover the shortages, he says, the Perm-36 Museum ran up debts of approximately 600,000 rubles (10,000 US dollars) and had no choice but to file for bankruptcy, something from which it is unlikely to emerge in a good way under current conditions.
The Russian authorities have not only closed the museum and seized its enormous archive, something Kovalev says is especially damaging, but they have closed down "the 'Territory of Freedom' [which] had existed for more than ten years." Unfortunately, "the evolution of [the Russian] state is in no way leading to freedom."
The powers that be "closed us and destroyed us for political reasons," the former GULAG inmate adds. "They don't need" such a place.
Tags: GULAG, International, Neo-stalinism, Putinism, Russia, Soviet history