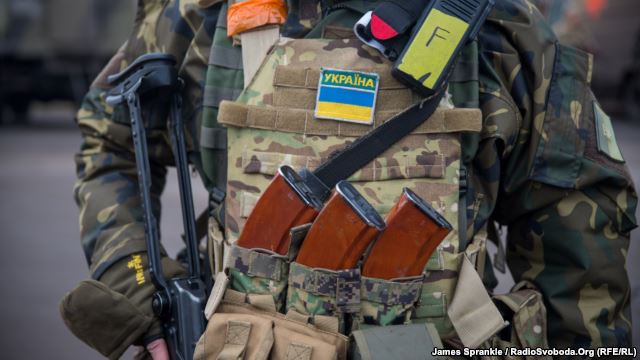 (original version-Ed.)
Hello dear stranger, my soldier so close and dear to my heart! I don't know who you really are – an infantry soldier, a reconnaissance expert, an artilleryman, a tank commander or a National Guard soldier – you are my protector and the defender of Ukraine. I want to thank you and all your brothers from the bottom of my heart! THANK YOU!
I'm sitting and writing this letter at home in Donetsk. I hear heavy artillery shells pounding outside my window. You get used to them, as long as they don't explode right under your feet, as long as your home is still intact. But, that's so far from what you actually see and feel every day. I understand that with my mind and my heart.
My heart breaks in two every time I read about the daily casualties during ATO operations. I first grieved very deeply when the military aircraft was shot down over Luhansk and 49 men were immediately killed. I wept for them as for my loved ones for days on end. The next disaster took place in Zelenopole. When I found out what had happened, I wanted to scream in terror and pain. Then came Saur-Mohyla, then Ilovaisk, then another and another. I wish with all my heart and soul for you, my dearest soldier, for your brothers and for all our patriots, to survive, hold out and defeat the enemy…. and return home where your loved ones are waiting for you.
My closest relatives have left Donetsk. My daughter went to Kyiv, my sisters to Lozova in Kharkiv oblast, my sisters' children – some to Mariupol, others to Kyiv.
My sisters left early August, after spending 24 hours in the bomb shelter of the Topaz plant. They took the first train out, wherever it was heading (those were the last days of the Donetsk railway station) and ended up in Lozova. People have helped them there. Now, all my relatives are trying to convince me to leave too, because I'm all alone in Donetsk. Me and my cat, Dianka.
You know what I tell them? I want to stay in our city and see Ukrainian soldiers, tanks and vehicles moving along our streets. I want to see our city liberated of this "DNR" evil; I want to see blue and yellow flags everywhere. By the way, neither my relatives nor my close friends took part in the "referendum" and no one voted for the "DNR". Our conscience is clear before our Motherland. My family and I believe that the mere idea of having a "referendum" and wanting to break up our country is totally unacceptable… and to make matters worse, so is the whole idea of joining eastern Ukraine to Russia. A lot of people think like me. Don't believe that 80% voted for the "DNR"!
I don't sit around twiddling my thumbs. I'm helping the army as much as I can. I give money to the Wings of the Phoenix Fund; I've also helped the 79th Mykolayiv Commando Brigade, the 72nd Mechanized Brigade, and the 25th Dnipropetrovsk Commando Brigade. I'll keep on helping… until we win, and then I'll help the men who need therapy and rehabilitation treatment. I also help the I.I. Mechnikov Clinic in Dnipropetrovsk, where the most severely wounded soldiers are treated.
I've been following the events at the airport very closely, through Phoenix and other volunteers, and information on the 062 Donetsk city site. They reported daily from the airport. "Today Donetsk airport fighters repulsed two attacks launched by "DNR" militants." …. or "Last night, terrorists launched four offensives against Donetsk Airport. They were driven back. Our troops have suffered no casualties." It was so nice to read such reports. But, how painful to watch those videos showing our destroyed armoured vehicles near the new airport terminal and knowing that our soldiers died in them….
You know, my dear soldier, when I sat down to write this letter, I felt waves of emotions overwhelming me. But, I talked to you in my head, as if you were standing right there in front of me. It's turned out rather dry and flat on paper. But, I'm so glad I've written to you. It's been clear for some time that the liberation of Donetsk will be difficult and very long, but I'll wait as long as I have to. I'm waiting for you. Please come to my town, stay safe and sound!
Natalia Klimenko, retired, Donetsk
Tags: Donbas war (2014-present), Donetsk, Thank you!, Ukrainian soldier