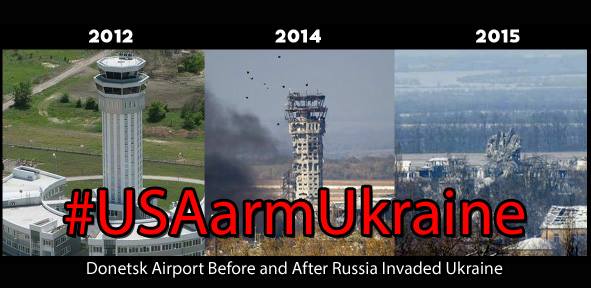 Dear friends of Ukraine, DigitalMaidan, Euromaidan Press, and Razom for Ukraine ask you to participate in a #USAarmUkraine twitter and call storm on February 4-6. Please join the event on Facebook>>>. Scroll down for instructions for calling and clickable tweets and additional resources (pictures and links to articles).
US President Obama has the final say with military matters, and ultimately decides if Ukraine will receive arms. The Ukraine Freedom Support Act (UFSA), passed on 12 December 2014, shows the Congress' support for arming Ukraine and urges, authorizes, and sets the legal groundwork for the President to send arms (and other aid) to Ukraine. Congress cannot force the President to send arms, but through the UFSA Congress authorized presidential actions and mandated that the President submit timelines for how such aid will actually get to Ukraine. According to the UFSA, by February 16th President Obama must submit to Congress a list of defensive articles to be sent to Ukraine, as well as a timeline on when the aid will be sent.
Despite the enactment of the UFSA, President Obama has remained steadfastly against sending Ukraine lethal aid and policy experts expected the Feb. 16th deadline to go ignored- until now.
It is rumored that the Obama Administration is now for the first time reconsidering its Ukrainian arms policy. Heightened Russian aggression, the worsening military conflict, UFSA deadlines, and congressional pressure has appeared to sway many State Department and White House officials' opinions to support supplying Ukraine with lethal aid.
On 5 February 2014 US Secretary of State John Kerry will be in Kyiv to meet with the Ukrainian government and examine the situation on the ground. Our sources suggest that the Obama Administration will choose whether or not to send Ukraine US arms in the next few days. Once again the US government has reached a tipping point in US foreign policy to Ukraine.
We cannot afford to be silent on this issue while our leaders are reconsidering decisions. The future of Ukraine as well as thousands of lives depend on the impending decision and your voice needs to be heard. Please join our Twitter storm, call the White House, and call the key members of Congress we have identified who will make or break this deal. US government officials need to know that we stand firm with Ukraine, our ally, and that they should do the same.
The Twitter storm will be short, but intense. Please participate by using the clickable tweets we have prepared. We need you to tweet and call as much as possible from February 4th to February 6th. For more details please visit the Facebook event page.
1. Directions for calling: Every day please call all the elected officials found here>>>

When you call provide your name and address. Ask the person who received your call if you need to repeat the information so they get it correctly.
Ask your listener to repeat the information back to you. This makes sure they wrote it down and are listening
Tell your listener to tell the representative/senator (the listener's boss) the two literal things:
1: "I want your boss to work with other members of Congress to make sure that Obama is held accountable to the February 16th deadline in the Ukraine Freedom Support Act."
2: "I also want your boss to work with other members of Congress to make sure that the United States helps arm Ukraine to honor its agreement in Budapest Memorandum."
Have your listener repeat your message back to you, similar in step 2.
Thank your listener for your time and hang up.
Tell your friends and family to do the same.
2. Clickable tweets – click and the message will tweet automatically in a separate window
Resources
 Media digest
Tags: #USAarmUkraine, Act!, Archive, Help, Help Ukraine, Russian invasion, USA