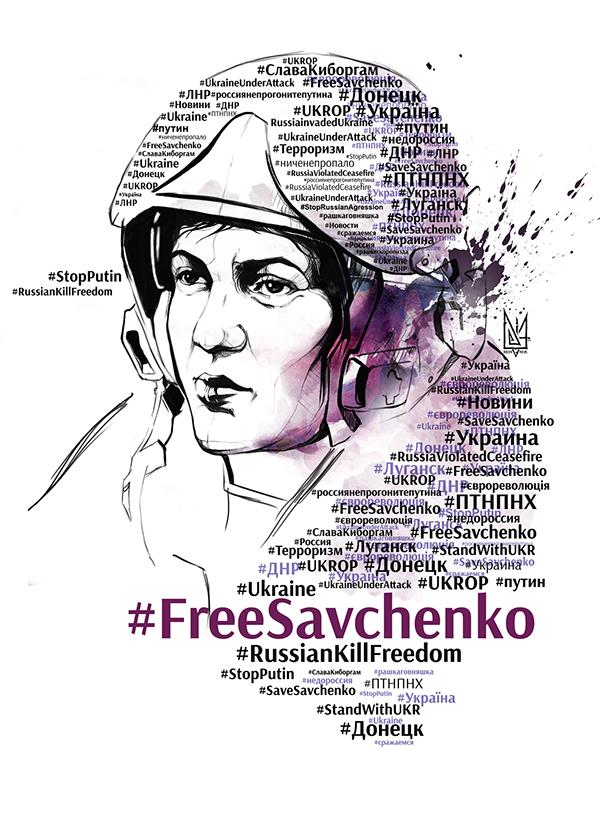 Nadiya Savchenko 
No doubt, she will die. She is a real soldier. Steadfast, fearless.
But also she is smart.
Her hunger strike is not to obtain her release.
It is simply the only weapon left to her now.
Her life.
With the price of her life, she inflicts the maximum damage on the enemy.
This is her last bullet.
And against the backdrop of terrible explosions in the Donbas, the last shot of Nadiya Savchenko, inevitably, will thunder with a deafening roar.
A roar of deafening silence.
One may deny the presence of his troops on foreign land; one may incessantly lie about an "internal conflict" and "militias;" but it is impossible, well, preposterous to deny the fact obvious to all – Russia, specifically Russia, as a state, abducted from another country, a soldier of that country…
…and murdered her in its prison.
Echoes of this appalling death will resound throughout the world.
This will be a devastating shot.
This will be a shot our own state will inflict to its own head.
However sacrilegious that may sound, it is far beyond Sergei Magnitsky!
Sadly, it is impossible for those in high offices, in whose hands the fate of Nadiya Savchenko now rests, not to understand the dire consequences of her death in a Russian prison.
And yet they somehow manage to avoid deadends, one after another, that they bring themselves into!
An example is the story of the environmentalists from "Arctic Sunrise." And even with the Bolotnaya court case.
Yes, crookedly, wrongly, stupidly, but even so!
The trouble is that everything takes so long.
The decision-making system is unwieldy and dilapidated.
And clearly, the system lost real Leaders, who could not only offer a solution, but – insist on one! Prove. Achieve.
They have disappeared.
The official TV coverage of the court proceedings is impossible to watch without tears. Forlorn, mournful faces.
At best – they write a memo. From the one side, from the other side.
"I believe it would be appropriate…"
The memo will fan out to seven addresses for approval.
Then they will decide on a meeting to develop a position.
Then the meeting will be postponed.
The time has passed.
It is over.
And that is why Nadiya Savchenko will die.
As a real soldier. In this real war.
And her last shot…
Who knows what just one shot will do…
In the mute, oppressive silence of the gorge, at the bottom of which we all stand (and stand, and stand…) while looking
some with admiration,
some blithely,
and some – in horror,
at the bulk of snowy cornices suspended over our heads.
Tags: International, Nadiya Savchenko, Russia