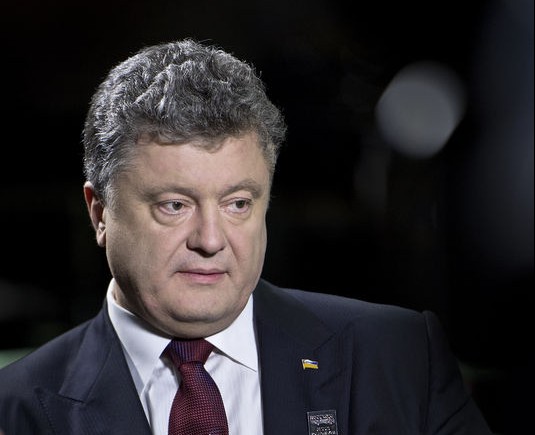 President of Ukraine Petro Poroshenko participated in a conference at the University of Zurich on 19 January 2015,  on the eve of the Davos Economic Forum in which he participated, where on 19 September 1946 Winston Churchill had called for unity within Europe. At the end of the conference, having been interrupted several times by pro-Russian activists who shouted "Je suis Donbas," Mr. Poroshenko gave an interview to Le Monde, the Wall Street Journal and the Neue Zürcher Zeitung. Euromaidan Press has provided a translation of the interview given to Le Monde.
Fighting intensified in recent days in the East of your country. Are the Minsk Agreements which provided for a cease-fire dead?
Today marks exactly four months since the Minsk agreements were signed. They have still not entered into force because one of the sides does not apply them. But things are not black and white. At one point, to avoid the term cease-fire, we introduced the term "artillery silence." It was decreed from 9 December 2014. For three weeks instead of 40 to 50 bombings per day, there was only 10. For two weeks, there were no civil or military casualties. This shows that Russians can control the terrorists when they want it. This proves that a diplomatic solution is possible. Unfortunately, for the last ten to twelve days, an escalation of the fighting is observed, which is not of our making, with the attack on Donetsk airport, artillery attacks like the one on the bus near Volnovakha [resulting in 13 civilian casualties], and other provocations.
Why am I still optimistic? Because Europe is united and that solidarity with Ukraine is global. Sanctions work, in the sense that they not only create problems for Russia, but they keep the Russians at the table.
President Putin has made you the proposals in a letter Friday. According to Moscow, you have rejected them…
This is false. Upon publication of this letter, we said that we were ready to cease fire if we had a guarantee from Russia that it would be bilateral, not unilateral. In this letter, Putin says he is willing to withdraw heavy weapons from the front but does not specify from which line exactly. My answer is very clear: we are prepared to withdraw artillery from the line drawn in Minsk, and we have proposed January 19 as a  starting day. If we do not recognize at which line you are willing to remove the artillery, the ceasefire could collapse after two days.
Why do you think he has made this proposal?
Because it was on the eve of the meeting of the European Council of Foreign Ministers on 19 January.
So you do not believe him?
Look, I believe in God … If you ask me whether I have confidence in the EU, I say yes. If you ask me if I have confidence in President Putin, I will answer no. I have much more confidence in  President Hollande and Chancellor Merkel, and all the European leaders.
Was President Hollande wrong to believe Putin when he said that he did not invade Ukraine?
I would just remind you that two months before the invasion of the Crimea, the Russians assured that they would not invade. And the Russians are already fighting in the east of our territory. According to our services, there are between 8,000 and 9,500 Russian troops on our soil. Despite this, it is necessary to build trust.
Do you often talk with President Putin?
At least once every two weeks.
Have you noticed a change in tone and attitude since the sanctions have an impact on the Russian economy?
Frankly, in our conversations, it is not the price of oil and the ruble that dominate. The topic of Ukraine is very emotional for him. However, it is essential to maintain the dialogue.
What does President really Putin want?
I would prefer if he told you himself. We want the territorial integrity of Ukraine. At the same time, I am fully aware that there is no military solution to this conflict: Russia has the largest army in Europe. For seven months we have been building an army to defend our territory to ensure that the cancer does not spread beyond the line fixed by Minsk.
Do you think that Russia seeks not to invade the southeast of Ukraine but simply to destabilize your country permanently?
It's possible. But instead of weakening my country, it strengthens it. I called for early parliamentary elections, thanks to which we now have a pro-European constitutional majority in Parliament. Before, 33% of Ukrainians wanted to join the EU; now 80% do. Before, 16% of people wanted to join NATO; now the number is at 60%. This is not to say that we want to adhere immediately to NATO, it means that our country is united. And I'm ready for a national dialogue on the shape of the state, unitary or federal, through a referendum.
Some of the leaders of the revolution in Maidan denounce the slow pace of reforms in Ukraine. They note the resistance of the system and the oligarchs.
There are indeed people that it is essential to replace. I am determined to change my country, and will not let anyone stand in the way, whether the oligarchs, bureaucrats, or our neighbor. It is a matter of survival for our country. It is not about waging a war against the oligarchs, but to build a state based on the rule of law, a transparent financial system that will apply to the oligarchs as well as the others. But do you realize that we are doing all that during wartime?
Do you possible to move forward on reforms while maintaining your territorial integrity?
There are two problems: peace in the Donbas and negotiations on  Crimea. These are two separate issues. For Crimea, it is not a matter of a month. For Donetsk, we must obtain the withdrawal of troops.
What have you accomplished since your election in May?
I signed the Association Agreement with the EU and we built an army.
In August 2014, you said that three quarters of the tanks were out of order…
It was August. In June we had no army. In August we tried to stop the offensive with the means at hand. Today we have an army. We have very effective cooperation programs for our military with countries around the world. Now we are ready to defend not only our country, but also to defend Europe. Because the frontline to defend freedom and European values is in Ukraine.
The West is enough for you?
Yes. Do not underestimate the unity of the European Union. Of course, I need support, unity, and sanctions against Russia. I need a free Ukraine, independent and democratic. I was proud to be in Paris on 11 January, I really liked the people who were not afraid and demonstrating for their values. And values are more important than money.
Featured image: Le Monde
Tags: Donbas, International, Minsk protocols / Minsk agreements, Petro Poroshenko, Russian invasion