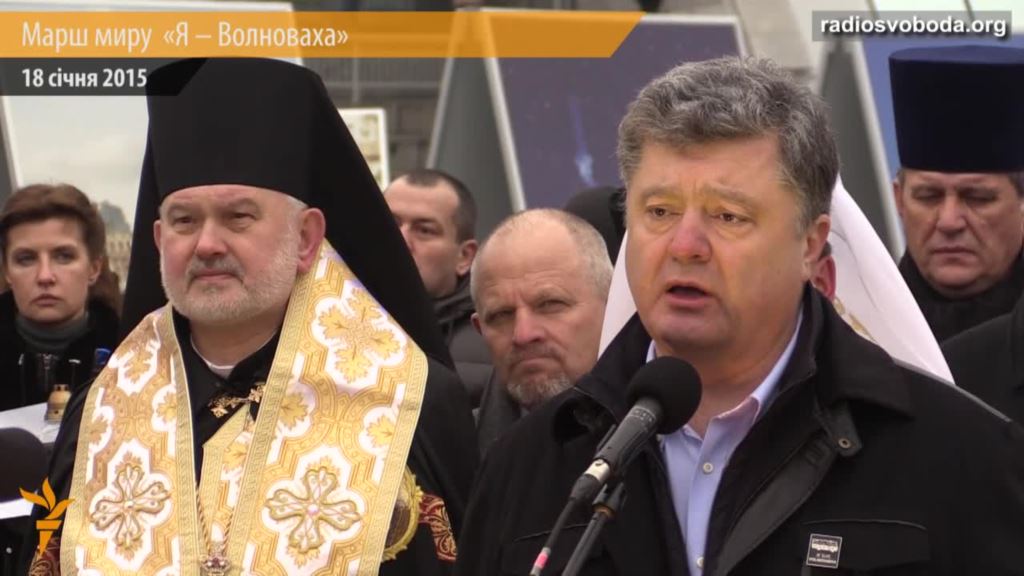 Ukrainian President Petro Poroshenko spoke on Maidan Nezalezhnosti square in Kyiv, where about 20 thousand Ukrainians gathered to participate in a March for Peace.
"I am grateful to each Ukrainian who did not remain impartial today," Poroshenko told the people who went from Shevchenko Park to Maidan to commemorate those who died this week near Volnovakha, as well as other victims of the military conflict in eastern Ukraine.
"The occupant will be thrown out from Ukrainian territory," the President of Ukraine emphasized at the end of his speech.
Prayers for the fallen were also spoken on Maidan by the Patriarch of the Ukrainian Orthodox Church of the Kyiv Patriarchate Filaret and the head of the the Ukrainian Greek Catholic Church Svyatoslav. The heads of other religious groups were also in attendance.
The event was also attended by the Prime Minister of Ukraine Arseniy Yatseniuk, members of the Verkhovna Rada and other officials.
Similar events took place in Kharkiv, Kherson, Cherkasy and many other Ukrainian cities.
Tags: Donbas war (2014-present), March for peace, Ukrainian crisis, Volnovaha