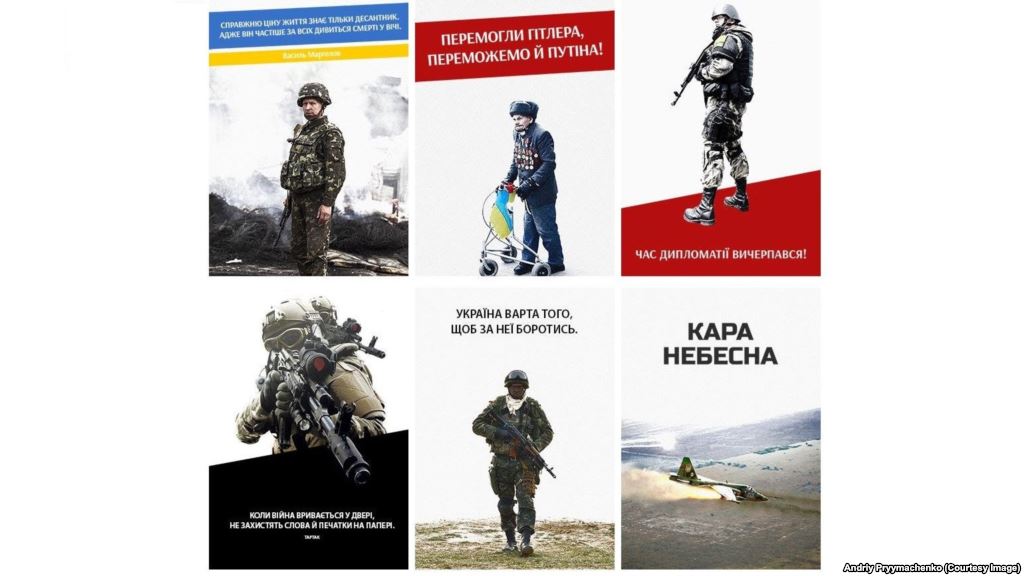 We remember each grain from 33.
We remember each Siberian snowflake.
May all devils be damned.
Despite the lines of fate.
History is not written in ink.
When God comes for us, we'll shake hands with Him.
These headings were created by Andriy Pryimachenko for his patriotic posters. The young man has compiled a series titled "Our Manifesto". In just one day, the number of "shares" in social networks beat all records. RFE contacted the young author to learn more about his plans. Is it possible to call this a premiere?
– Well … I've been producing such online series of posters for quite a while, since April. But, "Our Manifesto" …. yes, I posted it the day before yesterday on the Internet and people loved it and it's become very popular. I've had a lot of requests, so I now plan to produce a series of printed posters. I really feel that there's a difference between online and printed posters. Not because you can, in fact you are allowed to use another author's photo online indicating who created it, but if you print it, you must have the author's permission. I have permission from several authors. Once I have all the permissions, these posters will be printed, and I plan to give all the money from the sale to volunteers who are helping the Ukrainian Army.
– Do you plan to have these posters printed and sent to the front?
– My goal is not send them to the front, but to sell them here and send the proceeds to volunteers who know where to use this money, who should get it, etc.
– I'm looking at some printed posters now…something special catches the eye, something that we see in the image that corresponds to the heading. That's what creates a kind of magic, and sometimes makes us smile or provokes a feeling of admiration. Look here: a bright-coloured fighter plane and the headline "The Wrath of God". Or here's a picture of some cyborgs and the heading: "ACDC will start soon!" And so on… I mean, what came to you first – was it the actual idea with the heading or….?
– I don't have a single approach when I start creating these pictures. If we consider the "ACDC will start soon!" image, the idea first popped into my head when I read memories recorded by a soldier or volunteer who went to the battle zone … It was this Hryhoriy Mustang, the guy who painted the star in Moscow. He travelled to the front quite often and it seems to be his picture, but it needs to be clarified. He explained that he often spoke with the cyborgs, and one of them said: "ACDC will soon start!" Then, the shelling began, and the cyborgs started firing back. Those guys are under constant fire, and yet they continue to make up jokes. And then I stumbled on this picture with two soldiers. I see a cheerful optimism in their eyes and immediately the two connect.
– I'd just like to explain because we have some listeners who don't know much about rock music and not everyone knows that AC/DC is the name of a famous hard rock band, formed in the 1970s. Am I right?
– Yes.
– You were  too young to have seen them, right?
– Sure, but I've listened to some of their songs…
– Now tell us about yourself. Who are you?
– I studied film production in the United States. I returned to Ukraine in 2008, and from 2008 to 2013 I actually worked as a freelancer. I made and assembled videos. In 2014, I enrolled in the School of Journalism at the Ukrainian Catholic University (Lviv), where I'm still studying. So actually my pictures grew out of my film studies… because I get an idea and it turns out to be right and becomes popular.
– Obviously very popular, because I see that many of your images are shared via Facebook not only throughout Ukraine, but also in other countries. This shows that they are meaningful to everyone that supports Ukraine. How did you come up with the idea of the "Ukrainian Spring"? When did it start?
– In April. Why do I remember that so well? Because it was in April that the first Ukrainian soldier was killed. I remember watching TSN and they were talking about an SBU officer who had been ambushed and killed by terrorists. I don't remember the exact date, but it was mid-April and they gave his name, but there were no photos of this guy; maybe it was classified information.
I spent those first weeks looking for the names and photos of all the men that had died. This is how I created the series called "The First Heroes".
Well, I was dismayed that this person would be forgotten, and I didn't want that to happen. And the situation in society was such that all security officials and all members of law enforcement bodies were either enemies, or very undesirable people. So, I decided to make this image. I gave this man a name – Henadiy Bilychenko – and it was the first picture of the series "The First Heroes". I mean, during the first weeks of ATO, I spent most of my time searching for the names and photos of those who had died. I thought long and hard about how to present it correctly, but I couldn't come up with anything better than to say that they had been killed in action defending Ukraine. That's how I started the series "The First Heroes". When I published the first photo of this SBU officer, it got more than 500 shares in one day. Then I realized that this had to be done because there was a great demand for such images. And so appeared the "Ukrainian Spring" series.
– You have many skills. You know how to shoot films and make posters, and now you are a professional journalist. What are going to do when you finish your studies at the Ukrainian Catholic University?
– I think that if anyone at the new Ministry of Information hears this broadcast and contacts me, I'll gladly come and work with them, help them in their difficult daily work routine.
– Maybe they will hear us…
Tags: Facebook, posters, Ukraine, Ukrainian art and culture, Ukrainian patriotism, Volunteers