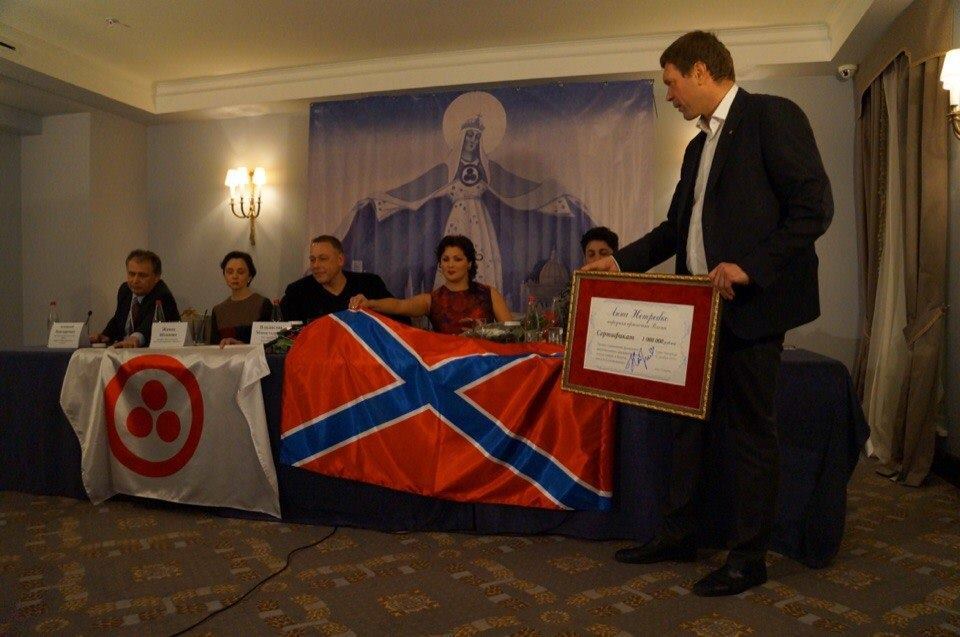 Featured image. Anna Netrebko at a press conference exchanges the the
Banner of peace
 for the flag of so-called "Novorossiya" with Oleh Tsariov
New York's Metropolitan Opera isn't about to cancel the concerts of Anna Netrebko, a world-renowned soprano who supports the terrorist organization responsible for the downing of the Malaysian airliner MH17, as well as for a 9-month war in eastern Ukraine led with overt Russian assistance.
Representatives of the Opera have answered that they are not obliged to share personal views of artists performing on their stage. It makes one wonder whether The Met would support Netrebko's freedom of expression had she donated a generous sum to Al Qaeda, a terrorist organization responsible for the 911 suicide plane attacks that destroyed New York's World Trade Center, taking nearly 3,000 lives.
The war led by "Novorossiya" terrorists aided and abetted by Russia against the Ukraine government has already claimed 11,500 lives. The Met's support for an artist who vocally supports terrorism not only dishonours the thousands of Ukrainian victims, but also shows scant respect for the families of those killed in the MH17 downing.
Responding to an Open letter from the community Arts Against Aggression with a request that The Met cancel all future performances by Anna Netrebko who has recently donated 1 million rubles to Oleh Tsariov,the self-styled leader of "Novorossiya", Putin's name for parts of eastern Ukraine bordering Russia. The letter to The Met stressed that while Ms.Netrebko is only the most recent in a line of artists doing the Kremlin's bidding, her "actions are particularly egregious, constituting material support for what amounts to terrorist organizations."
Representatives of the Opera have responded saying that The Met isn't obliged to share personal views of artists that perform on its stage and that they are proud Netrebko sings there.
@EuromaidanPress We got a response from the @MetOpera. They are proud to host terrorist sympathizer @AnnaNetrebko pic.twitter.com/qOkgA9ZbsW

— ArtAgainstAggression (@ST0P_PUTIN) December 18, 2014
Would The Met support an opera diva donating to Al Qaeda?
Austrian Airlines were not so supportive of Ms.Netrebko's choice of expression; they hastened to "distance themselves from extreme political positions and the use of armed violence," assuring that the opera diva is no longer the face of their company. Netrebko's political donation has gathered criticism not only in the internet under the hashtag #BoycottAnnaNetrebko, but also from the Austrian Foreign Ministry. Recently, Netrebko, a citizen of Russia, acquired dual citizenship in Austria.
Artists who take a position that supports aggression and bloodshed have to know that they can't then hide from responsibility behind their art. They use their artistic reputation to make the aggression seem legitimate and in fact "blessed."-Julia Khodor Beloborodov
Just over 13 years ago New York shuddered from the terrorist attack which became known as 911. Two passenger planes hijacked by terrorists destroyed the World Trade Center. 911 killed 2,996 people and caused at least $10 billion in property and infrastructure damage. 911 galvanised the world into urgently addressing the problem of terrorism.
On the 17th of July 2014, Russian-backed terrorists from the so-called "Novorossiya" shot down Malaysian Flight MH17 with a Russian Buk missile system, killing all 298 passengers and crew of whom the majority were Dutch and 38 were Australian.
It is these same terrorists to whom Netrebko made a generous donation.
The tragic downing resonated globally, as citizens around the world expressed their solidarity with the victims of the terrorist attack. MH17 is the visible tip of the iceberg. Horrendousf violence is being boosted by injections of Russian troops and weapons into Ukrainian territory, as so-called "rebels," re-inforced and led by the regular Russian army, continue. to kill, rape, and pillage, and continue to embroil Ukraine in a war that has already taken around 11,500 lives and shows no signs of stopping.
The legendary soprano has subsequently attempted to downplay the event, claiming first that she didn't realize who Tsariov was, or what the flag meant. Later, she said that Tsariov, who is wanted by the Ukrainian government on charges of separatism and is on the list of those sanctioned by the EU for their role in the events in eastern Ukraine, had caught her by surprise when handing her the flag, a statement that Tsariov later contradicted when he said that the event which took place in St.Petersburg was planned two weeks in advance. "We agreed that we exchange flags: I will receive the Banner of Peace, I will give the flag of Novorossiya, and we will receive the money,"  Russian news portal Rusnovosti reported. The world-renowned violinist Gidon Kremer commented on Anna's actions when handing the check to Tsariov, saying that it was a "completely conscious and political act."
The generous 1 million ruble donation, equivalent at the time to $16,000, was intended for the Donetsk Opera theater. However, what could have been an act of professional solidarity became a political statement when Ms.Netrebko handed over the check not to representatives of the theater- which has a staff level of 30 percent, brave and dedicated souls who continue to work despite the incessant shellings and dire humanitarian situation in Donetsk – but to Tsariov, who she referred to as "an official," entrusting him to distribute the aid to the theater. In so doing, she expressed her solidarity not with the artists of the theater, but with an unrecognized terrorist state responsible for 9 months of war in Ukraine. Tsariov later could not explain how he would use the money to repair the undamaged theater.
There are some things that can't be justified by any "art is outside of politics"
Arts Against Aggression is a volunteer organization calling out Russian artists who vocally or materially support the Russian government's policy of bloody aggression in Ukraine,  especially if these artists seek to benefit financially from their artistic reputations in the West. Arts Against Aggression believes that the arts should be the medium of peace and harmony, rather than one of war and aggression. The participants organize culture festivals, concerts, film screenings and discussions, aimed at raising awareness of Russian aggression in Ukraine and of the human cost of that policy. The funds raised at these events and through online fundraisers go to purchase medical supplies for Ukraine, mainly first-aid kits for Ukrainian soldiers and volunteers.
"There can be arts beyond politics, though I have less respect for those artists individually, but the artists who take a position that supports aggression and bloodshed have to know that they can't then hide from responsibility behind their art. They use their artistic reputation to make the aggression seem legitimate and in fact 'blessed.' So to then pretend that their art has nothing to do with their politics is dishonest and immoral. It's their right to say what they say. It is then our responsibility to make sure that the places where they seek to perform in the West and the potential patrons know what they've done," Julia Khodor Beloborodov, founder of Arts Against Aggression told Euromaidan Press.
There are many musicians who have used their reputation to legitimize Putin's aggression, in the opinion of the group: conductors Valery Gergiev and Vladimir Spivakov, violist Yuri Bashmet, and many others that signed a letter "in support of Putin's actions in Crimea and Ukraine," the pianist Valentina Lisitsa.
Should The Met proceed with staging Netrebko's concert it is sure to spark protests against the soprano. It would be the second time this year; as recently as October 2014 New York's opera was in the epicenter of protests that were supported by political figures such as the former city mayor  Rudolph W. Giuliani, facing accusations of supporting terrorism with respect to the performance of John Adams's "The Death of Klinghoffer."
The United States has shown its firm commitment to helping Ukraine in its struggle against Russian aggression and Russian-backed terrorists in the Ukraine Freedom Support Act signed on December 18. The Met's support for an artist funding the very same terrorists that the US government will be helping Ukraine force out of its territory is highly controversial, to say the least. One would hope that The Metropolitan Opera was simply unaware what support for "Novorossiya" terrorists actually implies.
I wonder if @MetOpera would ever allow Anna Netrebko to perform there if their patrons knew what she does? pic.twitter.com/D7puRXQZrN

— Andre Golo (@AndreGoLow) December 11, 2014
Meanwhile, fans of Netrebko's talent are faced with making their own decisions about supporting the artist's musical activities. There are many historical precedents available to take into account.  In the words of Sonia Koshkina,
Marlene Dietrich was the favorite actress and singer of Hitler. In the nascent Nazi empire she could have become the number one star. She could have had everything.

 

But she left what she had, renounced her citizenship and moved to the USA. When the war began she toured on the front lines, performing before the soldiers. Unlike Netrebko, she was able to distinguish good from evil.
Tags: Malaysia Airlines flight MH17, Netrebko, Op-ed, Terrorism