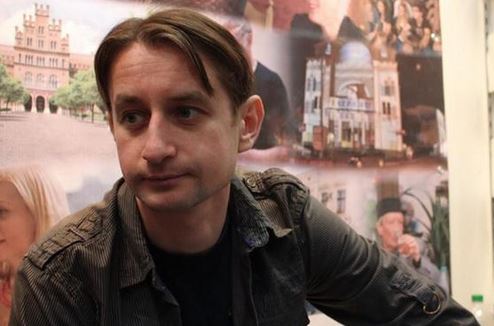 An interview with Ukrainian writer and poet Serhiy Zhadan, conducted by Tatiana Kolesnyczenko for the Polish publication "Wprost." Featured image: writer and poet Serhiy Zhadan
Did you observe the first anniversary of the Maidan protests in any way?
I'm not a fan of anniversaries. This was a moment for reflection.
And what were your thoughts?
As a society, we've matured. I like to compare this last Maidan with the one we had ten years ago… A year after that one, after the euphoria had passed, all people talked about was how they felt betrayed and disappointed.
But people are saying very similar things today.
Yes, but in a different way, without the hysteria, without the juvenile grievances, without the complaints that we've been duped.
And we haven't been duped? In Kyiv people say that if regular citizens weren't as determined as they are, the war would have been lost already.
It's true that we don't know how long the army could have continued its operations without the help of volunteers. People are looking for concrete and radical change. So far few changes have been implemented. But most important is the fact that we have a say in the process. And that is very important. Ten years ago any mention of another Maidan taking place was met with sarcasm. Today, the opinion that yet another revolution is inevitable is viewed as wholly credible. Too much has been lost in the past year, and people would not forgive themselves if nothing changes.
After the Orange Revolution everything that was hoped for had the prefix "euro" attached to it… Today Europe does not seem so attractive.
…Yes, today people's attitude towards Europe has shifted. When violence was used for the first time on the Maidan, when we had our first casualties, we expected the European Union to step in. And then later, too, when Russia annexed Crimea we expected some sort of concrete reaction. At that time the conflict could have been resolved peacefully. But there was an absence of consensual will, everyone spoke and acted indecisively, cautiously, and with trepidation. And then it got to be too late to do anything. We now find ourselves in a state of war with Russia. Some European politicians consider it a distant threat, one that does not affect Europe and so we have been left to fight alone. At the same time the European leadership is trying to negotiate with Putin, to protect Europe's economic interests. I'm afraid it could all end badly, and not only for Ukraine and Russia.
Do you feel worn out after this year?
Personally, no, but I can see that others feel worn out. That feeling of emotional exhaustion hangs over all of us and presses down on us more and more.
Do you ever wonder whether it was all worth it?
No, not about whether it was worth it. The Maidan was a revolution of dignity. But I do wonder whether our people have the strength and patience for the long haul. But all of it is to be expected. A continuous state of exhilaration is not realistic. The most important thing is for people to continue to have faith and hope. If they have that, they will keep fighting for change.
When did you realize that war has become a part of everyday life?
When military equipment didn't stop coming through the streets of Kharkiv. We see groups of armed soldiers in the streets. And it seems the more soldiers there are in the streets, the more flags there are in the streets, which I think has a calming effect on people – seeing the flags gives people a sense of security: as long as the flags are there the city is a part of a united country and war cannot reach into our streets and squares.
That is a very illusive kind of assurance.
Agreed. But people need that to keep the dark thoughts at bay. They want a normal life: they want to be able to go to work, to school. They want to believe that enemy tanks won't be crashing into their city tomorrow.
That is what offends the soldiers. They see their comrades-in-arms dying and then when they return to their homes they see a normal life as if nothing is going on.
But what are people supposed to do? They perform their daily duties, they pay taxes, they provide aid and support for the army, for the displaced persons. They continue to live in their country, they're not giving up on it. That's of the utmost importance. This is a very strange, abnormal war, it has been forced upon us for no reason. On TV we see ruined buildings, flying ammunition, and along with that (hard to imagine) people going to work every morning. People continue to live their lives.
So people have no fear?
Strangely enough the sense of fear is barely felt. But the feeling of gaiety, of lightness is gone. Especially in Kharkiv, which is where I live. Kharkiv isn't far from the war zone…
I recently heard the claim that life in Ukraine has become like life in Israel, under constant threat.
In Kyiv continual announcements can be heard throughout the subway system about interrupted service because of mines. So far they have just been threats. Kharkiv, though, has had terrorist attacks. We hear of explosions all the time, we hear reports about the destruction of subversive groups. Still, every city does its best to live a normal life. I haven't noticed any changes in the rhythm of everyday life as a consequence of the threats. There is no wallowing in gloom or a sense of tragedy. The current circumstances are accepted as difficult times, not as the end of the world.
How are people able to cope with their emotions?
There is broad unity and cooperation among people. People understand that in order to endure and to come out of the current circumstances with dignity, we have to stick together. That's one of the reasons there are so many people helping the soldiers, the wounded, the displaced.
Why is it that Kharkiv did not become another separatist republic? In the beginning things seemed to be very similar here to what was happening in Donbas.
Public life in Kharkiv is different from that in Donetsk. So is the mentality of the citizens. The police here were decent. Here the separatists took over municipal and government buildings, too, but they were chased out. Had it not been for the position the police held, we would, most likely, have ended up as another "people's republic."
Which do the people of  Kharkiv trust today the Russian media or the Ukrainian media?
In the beginning people were indifferent. Most didn't care one way or the other. That was true in all of Donbas. But the war has touched every one… Most people have come to realize that Donbas has been overtaken by the Russians, not by the separatists.
Are there people who still support Putin?
Yes. It does happen that someone will start talking about the fascists, the Kyiv junta, trying to plant fear in people by claiming that once Putin comes he will settle accounts with the lot of us. But people are learning to be cautious. They are learning new habits. For instance, when getting into a subway train it is wise to sit quietly, to get a feel for who is sitting around you…and to move to another train when your instinct tells you to.
More and more we hear voices in favor of giving up on Donbas for the sake of peace.
That's an example of what I call Donbasophobia. There are people in central and western Ukraine who think that Donbas is a lost cause, lost territory, that the populace of Donbas will never be in solidarity with the rest of the country.
The last election demonstrated just that. People cast votes for pro-Russian candidates.
Donbas is not a homogeneous region. It is difficult to draw comparisons with the rest of the country. This war is neither a national war, nor is it a cultural or a political war. Hardship and poverty are huge factors. Where there is misery and fear there is latent violence. And where there is violence it is easy to manipulate the public. Around here the oligarchs are supported because they are seen as a source of security, as a kind of guarantee for minimal aid. But in the area where my parents live, for example, there is no backing for the separatists and the area wasn't included in the pseudo-referendum either. It's where the National Guard is located. I know a lot of people who received punishment for demonstrating in the streets with Ukrainian flags in both Luhansk and Donetsk. If we abandon Donetsk millions of people will be betrayed.
You say that because you're a native of the region. You have taken on the role of defender of the East.
I was born in Starobilsk in Luhansk Oblast. I had a happy childhood there and I love the region. But I repeat: Donbasophobia is detrimental to Ukraine. Note how many expensive cars you see on the roads with decals of Ukrainian flags on them. Before the Maidan few businessmen knew or cared that they are Ukrainian.
You yourself claim that Kharkiv is different. And I know for a fact that there are conflicts between the locals and the people who have been dislocated from Donetsk and Luhansk.
Presently it is very difficult to have any kind of conversation with the people who have been displaced. They are too full of bitterness and anger. They want to unload their feelings, they want to be heard. They expect empathy. In Kyiv nobody cares that they had Ukrainian flags in their homes. They are victims of the manufactured and formulaic perception that a split exists between Donbas and the rest of the country.
Do they want to return to their homes?
Most of them miss their homes but say they will not be returning. At the moment, they have no place to return to. There is nothing there. No one to talk to, nothing to talk about.
What can a poet do in time of war?
The same thing a poet always does, he can write. If the thinkers and scholars in our society should lose their sense of what is really happening to all of us that will be the last step before we descend into total chaos. The moment we stop reading books or listening to poetry, the moment we decide to ignore language as being part of who we are, that will be the moment we betray ourselves and the society we live in. The future of our country depends not only on secure borders but on the assurance and certainty that we still own our culture. We don't know how long the war will last or how deeply we will be affected. But when the war does end I would like to be able to say that we poets were not silent even in the most difficult of times.
Tags: Donbas, EuroMaidan, Op-ed, Zhadan