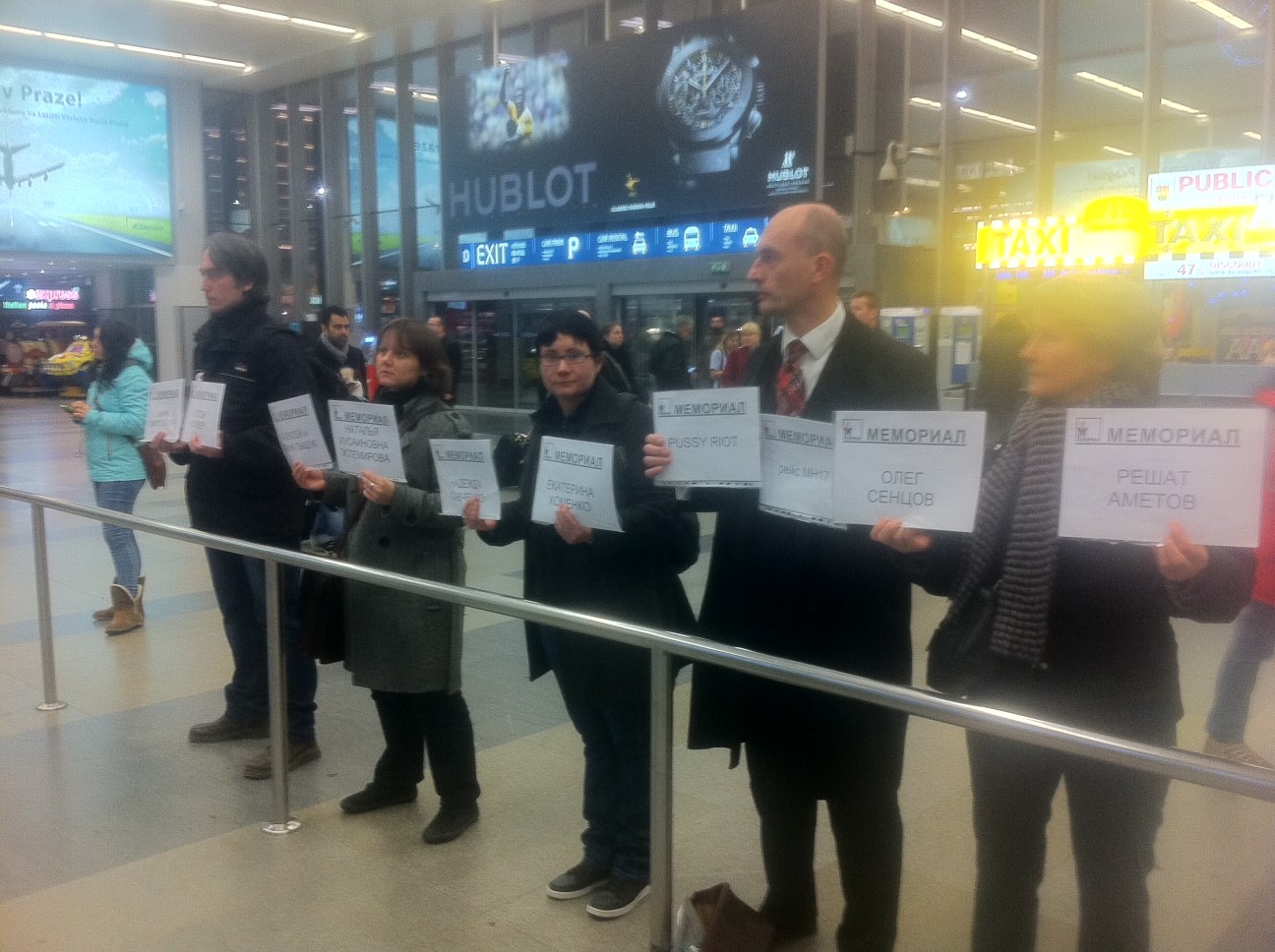 On 4 December 2014, residents of Prague greeted an airplane arriving from Russia's St. Petersburg holding namesigns of people that suffered from the Russian regime. Inna Kurochkina shared the photos from the demonstration in
Facebook
: Czechs in the airport demonstrated that they are waiting to meet Nadiya Savchenko and Oleh Sentsov, the flight MH17 and many others that suffered from the hands of Putin's regime. 
Activists in Prague's airport held 10 signs with the names of people that died or seriously suffered from Putin's regime at the arrival of a flight from St.Petersburg.
Apart from the Ukrainians Nadiya Savchenko and Oleh Sentsov, who are being illegally held in Russia, the Czechs were waiting for Iryna and Oleksiy Tyshschuk. Oleksiy died while defending the Donetsk airport in UKraine's Donbas from a Russian attack as part of the 93d brigade. He was killed on September 28. When his mother found out about this, she committed suicide.
One of the placards was for the passengers of MH17 – the Malaysian Boeing that was shot down on territories under control of the pro-Russian militants on Ukraine's East. The Czech activists also waited for Russian journalist Anna Politkovskaya and human rights actvist Natalia Estemirova, a member of the Russian Expert Council of the Commissioner for Human Rights in Chechnya. Both were killed in their battle  to protect human rights in Russia. Neither did the Prague activists didn't get to greet Yekateria Khomenko, a dancer and tango instructor for same-sex couples in St. Petersburg. Khomenko was stabbed to death in her car three months ago. Each placard had the sign of the Russian human rights organization Memorial. All photos by Inna Kurochkina
The demonstration was a direct action against the Russian government's attempts to close the Russian historical and civil rights society Memorial, and was held by the group Kaputin, a coalition of activists protesting against the close ties of Czech president Zeman with the Russian president Putin.
"Memorial is a legendary organisation borne out of the Russian dissident movement in the middle of the 1980s immediately after Gorbachev started to experiment with Glasnost," said one of the organizers, Otakar van Gemund said. "These very brave dissidents started trying to get access to the secret Soviet archives to document Stalin´s crimes (still in communists times). "It is the last remnant of civic society in Russia and that is what is basically at stake if they are banned. It may be a remnant but it is a formidable remnant and has always been so. It is one of these rare instances in Russia of real European values and thought."
The Russian Justice Ministry has moved to dissolve the established human rights group, citing technical issues related to Memorial's legal registration. The action was filed Sept. 24 but not publicized until October.
The activists plan to continue these silent protests until the airport's administration throws  them out and expect a larger number of participants next time.
Tags: Help Ukraine, Human rights, International, Oleh Sentsov, Protests, Russia, Savchenko