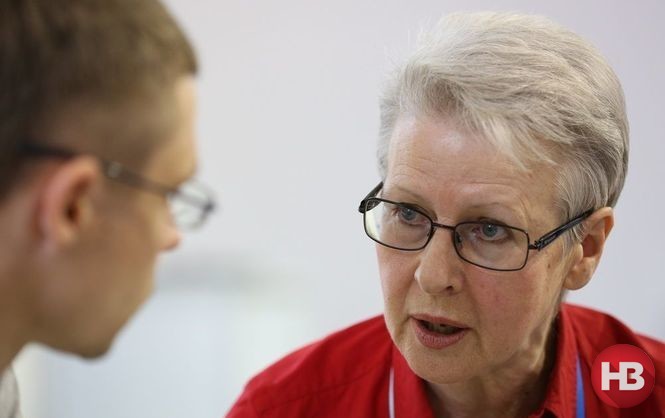 Vladislav Surkov, a  top aide to Russian President Vladimir Putin, is already making plans and channeling funds to Ukraine in order to wield influence and create a pro-Kremlin group in the Verkhovna Rada, the Russian political scientist Lilia Shevtsova said during an interview with Novoye Vremya (New Times).
"Clearly, Putin, in addition to the military solution, is looking for other solutions. For example, to create his own fifth column in the new Ukrainian Verkhovna Rada. Vladislav Surkov (is the person responsible — Ed.). He is a man of war. A political operative — one of the best, who created an array of fake parties and the so-called 'sovereign democracy' in Russia. Now he is experimenting in Ukraine. I think that Surkov is already making plans and channeling funds to Ukraine in order to solve the problem through peaceful means — to create a Russian pro-Kremlin fifth column in the Verkhovna Rada and to wield influence," she said.
According to Shevtsova, Moscow does not have sufficient funds currently for a full-scale war against Ukraine and the world, but there will be enough money for the demoralization of the Ukrainian elite.
"The entire history with Ukraine was not an end in itself for Vladimir Putin. People think that everything began with Ukraine. That is not true. Everything began in 2011, when the Bolotnaya and Sakharov (demonstrators) took to the street. Afterwards, ever since Putin returned to power in 2012-2013, before Maidan, he has spent all his time building a new political regime. By the end of 2013, he had formed it in Russia," she said.  (In December 2011, mass demonstrations against election fraud took place on Bolotnaya Square and Sakharov Ave. in Moscow — Ed.)
As previously reported, Surkov is a top political aide to Russia's President Vladimir Putin. He has managed the Ukrainian issue since the 2004 elections. In 2013, according to many sources, he has been responsible for Russia's relations with Ukraine. Since early 2014, he has been acting secretly as Putin's special representative in Ukraine. He has visited Kyiv at least twice. According to media reports, Surkov has the authority to negotiate with the Ukrainian establishment and to enter into informal arrangements.
In Russia, Surkov is referred to as the "gray cardinal, a master of political intrigue and PR, and the main political administrator. He was responsible for creating the political establishment under Putin, for controlling elections to the State Duma, and for approving the (candidate) lists of parties close to the Kremlin.
Recently,  Igor Girkin ( Strelkov), the former "defense minister" of the so-called Donetsk People's Republic, stated that Vladislav Surkov was the man behind the scenes who directed all the actions of the Russian militants and arrivals in the Donbas, especially this spring and summer.
Adapted and translated from article in Ukrainska Pravda
Tags: News, Putin, Surkov, Ukraine, Verkhovna Rada