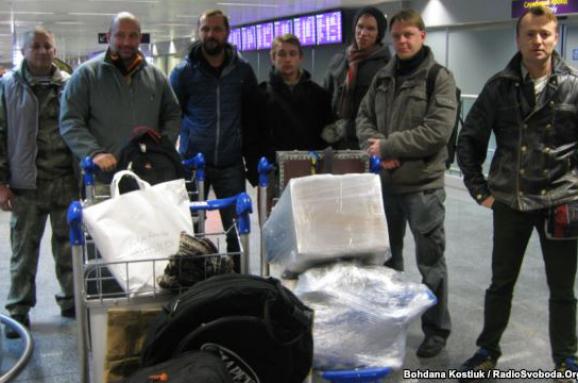 Estonian rock band Svjata Vatra brought humanitarian assistance from Estonia to Ukraine this Sunday. Includes individual medical kits, warm clothing, thermal vision equipment and children's drawings, which the musicians will have volunteers pass on to the ATO zone. 
The musicians sent part of the humanitarian cargo to the volunteers in Aydar battalion. This assistance was received by battalion command Serhiy Melnychuk, reports Espreso.TV citing Radio Liberty.
"Our rock band held a concert on October 21 during the Days of Ukrainian Culture in Estonia, and the participants included the guys from the bad Haydamaky. Before that, they performed for the Ukrainian fighters near Donetsk Airport and spoke about their impressions. We asked the spectators to help the Ukrainian army and volunteer battalions. We managed to collect over a hundred thousand Europe, and we used the money to buy individual medical kits, thermal vision equipment and warm clothing for the fighters," said founder of Svjata Vatra, Ukrainian musician Ruslan Trochynsky, who has lived in Estonia for over ten years.
The things they sent to the ATO fighters also include warm socks and gloves knitted by Estonian women especially for the Ukrainian soldiers.
Svjata Vatra will hold charity concerts in Dnipropetrovsk, Kharkiv and Sloviansk on November 17-20, and will perform in Kyiv for the wounded soldiers in the Central Military Hospital.
Tags: Donbas war (2014-present), Estonia, International Help, Tweet, Ukrainian crisis