Starting in 1995, the Intendant (Director) of the Saar Music Festival, German pianist Robert Leonardy  established the theme of presenting music from a particular country for his biannual international festival. Initially, Valery Gergiev had been scheduled to conduct the Munich Philharmonic on March 10 2015 in Saarbrücken featuring cello soloist Sol Gabetta in the Dvorak concerto. Since the theme of these concerts is "Poland," the Polish Embassy in Berlin gave a clear indication that Gergiev was not wanted. It has now been announced that while Gergiev will conduct the same program in Paris the night before, Polish conductor Michal Nesterowicz will conduct the Munich Philharmonic at the concert in the Konzertsaal in Saarbrücken.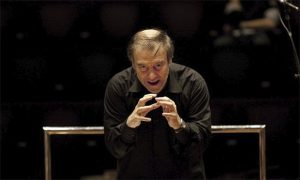 In a German radio interview, Leonardy explained that originally Lorin Maazel was to be the conductor, but after his death in July, the festival  engaged Gergiev. Leonardy added that when he presented that program to the Polish Embassy, he was given to understand by Donald Tusk, former Polish Prime Minister, and others that Gergiev was unacceptable because of his admiration and support for Vladimir Putin. "It is not acceptable that a Russian, a well-known friend of Putin's, should appear at a Polish event."
International superstar and former Principal Guest Conductor at the Met Opera, Valery Gergiev is Ossetia's most famous son and an outspoken supporter of Putin's regime. It is rumored Gergiev and Putin are also godfathers to each other's children. For Gergiev to build St. Petersburg's Mariinsky Theare into an international powerhouse required significant political and personal support from Vladimir Putin. The only other case where a musician was so close to a ruler is perhaps Wagner and the mad Ludwig II of Bavaria.
And Gergiev's sense of loyalty to his wide web of powerful political and financial friends runs deep. Thus, in a concert he conducted in the war-torn Georgian city of Tskhinvali in 2008, Gergiev programmed Shostakovich's Seventh Symphony, a potboiler lamenting Russian suffering, Nazi aggression, and celebrating "a beautiful future time when the enemy will have been defeated." This in-your-face message was clear. Gergiev chose to emphasize two Russian victories, linking  WW II Leningrad with the present day Russian invasion and expansion into Georgia.
Gergiev is also one of the 511 signatories (musicians, artists, directors) in support of Putin's policies in Crimea and Ukraine displayed on the Russian Ministry of Culture's website. He often states the West is getting it all wrong, that we unfairly cast Putin as the aggressor. Gergiev sided with the Putin administration against the band Pussy Riot. At the Tskhinvali concert, he said, "…People have a right to know the truth about what happened in Ossetia and why Russia had the right to send troops… if it were not for the help of Great Russia, there would have been even more casualties." The maestro also praises "Russian help" in Ukraine and supports the annexation of Crimea: "The people who run Ukraine are spouting fascist slogans."
Sadly, Valery Gergiev is just the tip of the iceberg when we consider similar outspoken support for Putin's actions by his internationally famous colleagues – like fellow conductor Vladimir Spivakov, soprano Anna Netrebko, violist Yuri Bashmet, film director Fedor Bondarchuk, and many others.
Norman Lebrecht, a top British music commentator, journalist, and novelist wrote on November 7, 2014:
"The brand Gergiev is severely damaged… His Ring cycle is playing to empty spaces in Birmingham  despite massive discounting of tickets. His summer tour with the World Peace Orchestra turned into a one-stop after failure to attract funding. His tenure with the London Symphony Orchestra is trickling out on a tide of indifference. His moral leadership has evaporated…  His unqualified support for Putin's Crimea invasion has deterred sections of the western public, while his fly-by-night, barely-rehearsed performances have left others feeling cheated and a little bored. The gentle Times critic, Hilary French, reports today that he's conducting the Ring 'on auto-pilot'.

All of this is bad news for Brand Gergiev. If the Mariinsky is no longer a box-office draw, his tour plans will be confined to Russia and the Far East. If oligarchs won't fund him, who will? Munich, his next orchestra, will keep a stringent eye on his close relations with the Putin regime. The most gifted conductor of his generation… is heading for a tailspin."