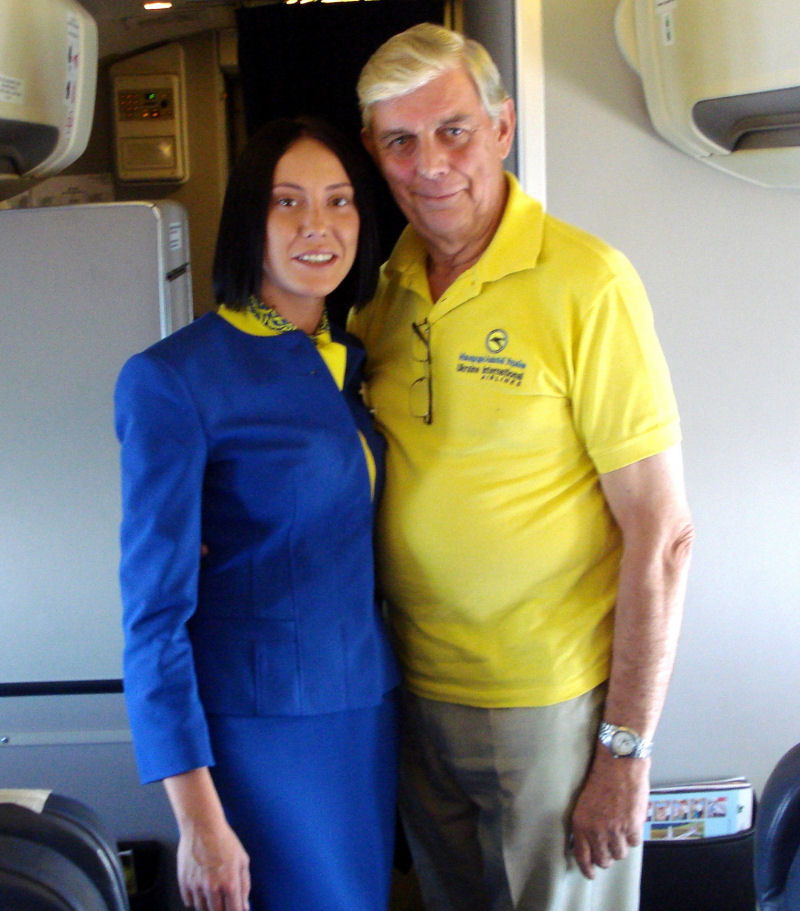 I am the world's most travelled man. I have flown 26 million kilometers on airplanes and twice made it to the Guinness Book of World Records. I am an Englishman by nationality and a traveler by profession. My business is to write about hotels and countries, where I am invited to. I am a blogger and have my own magazine. I write and post photos only about those things, which I have seen with my own eyes or experienced myself, this is my golden rule. The readers are interested to know the truth as it is. I also organize private tours. My world is the whole Planet.
I want to tell you why I live in Ukraine, in the town of Komsomolsk, Poltava Oblast for the last ten years. Firstly, my wife is Ukrainian. I married a beautiful and intelligent woman and I am not trying to change her, because she would no longer be the one I married. My daughter is another woman I am proud of. She is a student, speaks Russian, Ukrainian and English. I am a modern father, I don't have strict rules, except for she must be responsible, honest and keep her promises.
I am proud of my family. That's what has been lost in England – family. And it is the reason why I love Ukraine. You may be surprised, but I don't like London. I will move there only in case of emergency, or for example, if my wife wants to. Yes, I know that there is a military conflict in Ukraine. But I am not going to change my place of residence.
I feel Ukrainian. I love this country and want it to do well. I live in a town where I am the only Englishman, but I feel comfortable. People here are very warm and hospitable. And yes, I feel safe here.
I would like to return sovereignty and integrity to our country. I would like to return the Crimea to Ukraine, I also want our borders to be taken seriously and not violated. I hope we will clear Donbas of gangsters, and return the Crimea. That's exactly what the Maidan stood for: to rid the country from gangsterism.
What does Putin want? He is not interested in development. He wants total control.
Go to Russia and see whether you can express your thoughts as freely as you do in Ukraine. Here you can say what you want, here is freedom of speech. The only type of media in Russia is Putin TV. In Ukraine everybody has a freedom to choose their language. Many people speak Ukrainian, but nobody prohibits speaking Russian.
When in 1994 Ukraine renounced nuclear weapons, neighbors guaranteed sovereignty to the country. Where are all these promises? Our neighbors do whatever comes to their mind. Europe? Europe doesn't want war, it doesn't want sanctions. They are ready to condone all Russia's actions.
I consider Ukraine to be part of Europe. Our country has to be in Europe, that's the right path. Look at the Baltic countries and Bulgaria. After they joined the European Union they started to develop. And Ukraine is the largest European country.
We have foodstuffs, we have resources, we have the population. The cooperation of Ukraine and European Union will be profitable for both. Europe will succeed by accepting Ukraine, and Ukraine will succeed as well, by choosing the way of European integration.
Horrible things are happening now. The army is plundered. I myself tried to help the Ukrainian soldiers to get thermal undergarments, so that they would keep warm in the winter. But when the country is totally exhausted, it is vulnerably to everything.
I don't want to say anything negative about Ukraine. Even in my blog with 39 thousands subscribers there are no negative words, except for hotel reviews, as it is the first thing one pays attention to when coming to a new country. My only negative blog was dedicated to hotel Boryspil. It is the first hotel that greets you on arriving to Ukraine. Oh my God! You have no idea how bad its food and amenities are.
Once I have brought an American to Ukraine just for three days. He was surprised at how great a time he spent here.
I am sure that Ukrainians have lots of new and unknown ahead of them. The country and the people have a huge potential. Sometimes it is necessary to get into a very bad situation to open that potential. There is no awakening otherwise.
Treat today's situation as an extraordinary journey. When you travel you stay with people for a long time – you have to be attentive and tolerant to people around you, well organized and take care not to lose your luggage, be in time for a plane, book a car, in other words, be responsible. When we travel we understand who we are, how we live, and where we find ourselves at the moment.