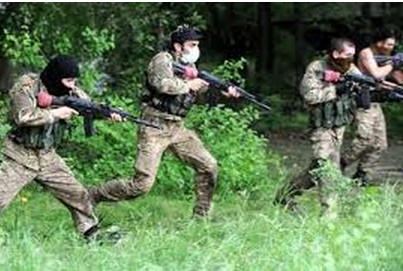 New "entertainment" has recently appeared in Ukraine and Russia: extreme tours for a few days in the ATO zone.
The "tourists" are taken out to front line towns, where they can stay in war conditions. According to the Secret Service of Ukraine (SBU), many "hotheads" from Russia arrive in groups of 7-8 persons. They travel together with Russian volunteers helping the self-proclaimed Donetsk and Luhansk People Republics (DPR and LPR). Their cars are not inspected at separatists' checkpoints and "tourists" pass them without delay. The price for a 3-4 day "tour" starts at $1,000.
As reported by the SBU to the newspaper "Segodnya" ("Today"), Russians who wish to visit the ATO zone, fire military weapons, talk with separatists, and make videos or take photos can directly contact one of the terrorists' leaders nicknamed Givi.
"He makes his offer and if (the tourists) agree, then no problem, a group is organised, supplied with ammunition and combat weapon, with helmets marked with the word "Press". In case someone is hurt or killed, there is "evidence" that the Ukrainian military, despite a truce, are shooting Russian journalists. The group is accompanied along the entire movement route and in deployment places where they are provided food and accommodation.
After the "safari-tour", the group is brought back to where it came from, to the Ukrainian-Russian border not controlled by the Ukrainian army", says the SBU colonel. During the "safari-tour", a "tourist" is allowed to shoot from [combat] weapon. "Tourists" can take videos and photos during the exercise. No insurance policy is applicable: "tourists" understand perfectly well that it can happen they not come back."
ATO headquarters confirmed this information. "The fact that "tourists" from Russia are numerous is indisputable. But we do not catch them, it is extremely difficult to track them," – said ATO speaker Vladyslav Seleznev.
Not all the "tourists" in the ATO zone are from Russia. Advertisements offering such "tours" can easily be found in separatist-controlled Donetsk. The name of the tour is "Following tracks of Ukrainian Army". Everybody who wishes to can go to "liberated" towns and areas where active military operations are taking place. The price of such a "safari-tour" ranges from 1,000-8,000 UAH ($77-$615). Organizers of "safari-tours" provide "tourists" with a full set of ballistic protection equipment, meaning bulletproof jackets and kevlar helmets.
Translation by Dr. Vitalii Usenko, MD, MBA, expert of the Center of Military-Political Studies in the sphere of psychology of communications and by  Dmytro Usenko, student at Rotman School of Management, University of Toronto