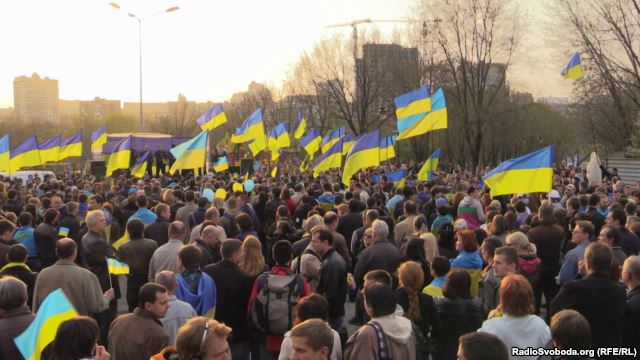 The journalists who have a Ukrainian passport find it practically impossible to work on the territory of Donbas which is currently under the control of pro-Russian mercenaries. As such, much of the information, videos in particular, about the situation in such regions comes from eyewitnesses or Western journalists. Naturally, there are Russian media reports, but they are frequently cardinally different from those done by Western media. Polish journalist from Gazeta Wyborcza Petro Andrusechko told Radio liberty about work and the situation in the regions which are under separatist control. 
Mr. Andrusechko, you worked a lot in the regions of Luhansk and Donetsk oblasts, which are currently under separatist control. How difficult is it for Western media to work there, compared to Ukrainian media? 
It is a little easier for Western media to work there, as we can get accreditation there, which theoretically allows us to work in the so-called 'People's Republic of Donetsk,' however it does not ensure our work completely. I had an instance in the end of July, when I was just arrested on the street in Donetsk. I was taking a photo of one of the buildings, and then they just took me to the SBU building. However, to be honest, after about 40 minutes of explanations, they let me go. We took information from the 'official sources' of this 'republic' when we went to press conferences, back then Boroday was still 'Prime Minister.' However, naturally, we also spoke to the people living in Donetsk. In reality, there are many of those still living there who do not share separatist ideas.
How willing are the locals to speak to you? 
There were moments when they did not want to talk. When they heard I was from Poland they said "you over there support the Kyiv junta." However, somehow I managed to speak with them, they would later open up and talk more. However, a very important factor is observation, just watching what is happening in the city itself. It was slightly easier for me than other Western journalists, as Ukraine is not foreign to me at all, I knew Donbas before. I had been to Donetsk and Luhansk. I deal scientifically with separatism in Ukraine, I wrote my dissertation on ethic-political relations in Ukraine. So I had a certain type of training.
Did the mercenaries not interfere with your talking to the locals, how much of a chance did you have to get the information you needed? 
First, the problem with the mercenaries was on the roadblocks, when you tried to take footage of them, or their positions. This problem began back in Sloviansk. You never knew whether you could take photos of their roadblocks even in the very center of the city. One time it was allowed, later not. We managed to take their pictures and talk with them in Sloviansk. Later it became slightly more difficult. And now, in order to take photographs of the separatists' positions, to go to their roadblocks, you need a so-called 'military accreditation' instead of the regular 'DNR' accreditation, which is more difficult to receive.
There are many Russian journalists working on the territories of Donbas under mercenary control. Do they have advantages over you? 
Yes. It was very obvious back in Sloviansk, in the very beginning, when LifeNews TV channel was very active there. Here questions arose whether we could speak of journalism in their regard, as in many instances their work had nothing to do with journalism. But I also met normal Russian journalists there, and I still see them, on the side of Ukraine as well. They are journalists who try to be objective, and because they are Russian citizens, it is easier for them to talk to the mercenaries.
Допис
by Piotr Andrusieczko.
Tags: Donbas war (2014-present), Russian propaganda, Western media