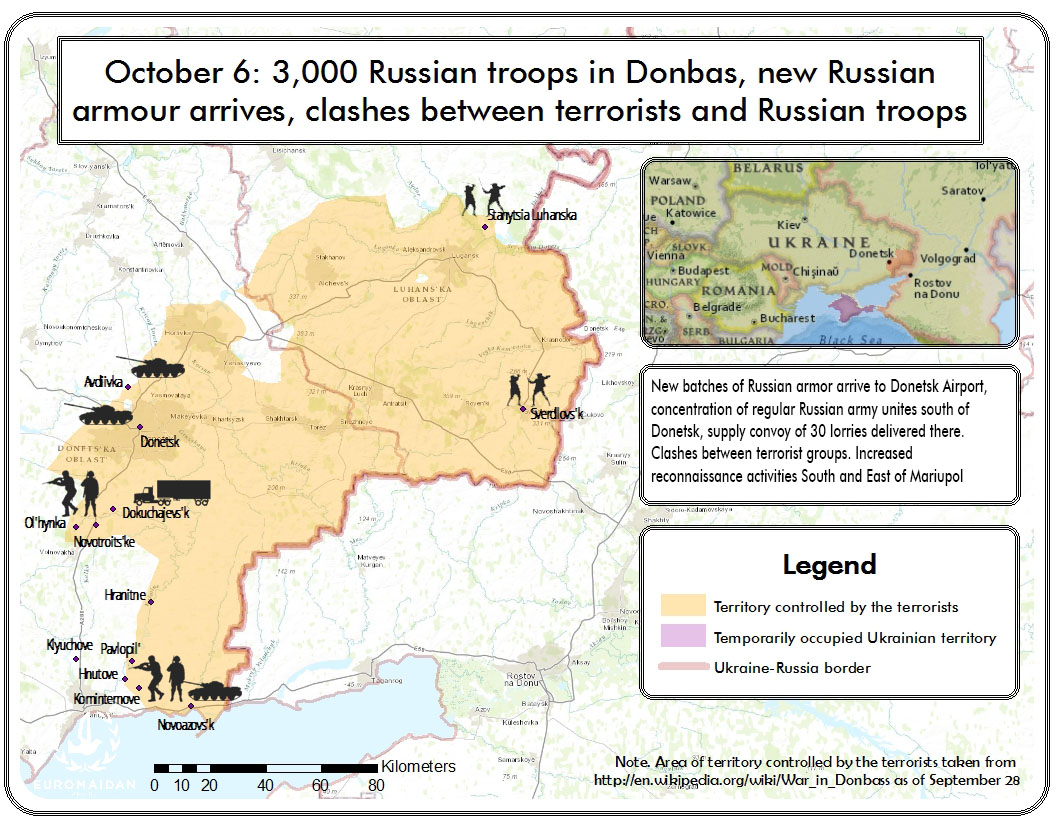 Dmytro Tymchuk, head of the Information Resistance group, posted this on his Facebook page on 6 October at around 9am Kyiv time:
"The night of 6 October starting from 02:00 passed without Russian-terrorist troops firing on the positions held by Ukrainian troops.
Rotation of Russian troops in Donbas continues. According to our estimates, around 3,000 Russian servicemen are still on the territory of Donbas.
Another batch of Russian armour (up to 10 items) has arrived in the area near Donetsk airport. It was sent to the local militants by the Russian military with instructions 'to take care of the hardware'. Up to 10 pieces of Russian armour have been deployed to the area near Avdiyivka [town north of Donetsk, held by Ukrainian government forces].
Concentration of regular Russian army units has been observed in the area of Dokuchayevsk-Novotroyitsk-Olhynka [south of Donetsk] and Novoazovsk-Kominternove [on Azov Sea coast]. Units deployed there earlier are being reinforced with hardware and artillery. Concealed concentration of reserves on this direction is under way.
A supply convoy made of up to 30 lorries was spotted in the area of Dokuchayevsk.
Local terrorists operating near Donetsk are demanding that the self-proclaimed 'Donetsk people's republic' leadership and the Russian command provide them with 'winter uniforms', warning that otherwise they will start seizing warm clothes from the locals.
In Stanytsya Luhanska, clashes have been observed between separate groups of terrorists with the use of both small arms and heavy weapons. Taking part in the clashes are squads of the self-proclaimed 'Luhansk people's republic', Russian 'cossacks' and groups of local terrorists not controlled by the LNR. Units of 'Chechens' are also in the town, but they are not taking part in the confrontation.
Near Sverdlovsk [Luhansk Region], shoot-outs between groups of local militants and 'cossacks', who arrived from Antratsyt, have been observed.
Increased activity on the part of the foe's subversion and reconnaissance groups has been observed in the area of Pavlopil-Hnutove-Klyuchove-Hranitne [north and east of Mariupol]. These groups have been especially active in the vicinity of the H20 Mariupol-Donetsk motorway."
Tags: Archive, DNR ("Donetsk People's Republic"), Donbas, Russian troops