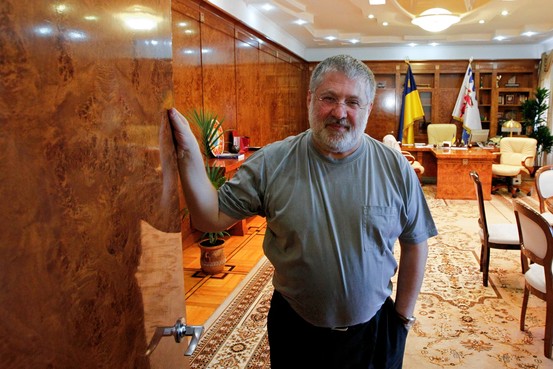 In the issue of regulating the situation in the East, Ukraine should not only prepare for the winter, but also be 'fully armed' by springtime. This was stated on Saturday at a press conference in Dnipropetrovsk by the head of the oblast state administration Ihor Kolomoysky when answering the journalists' question on the peaceful regulation of the conflict in Donbas.
He stated that he is celebrating the President's peace plan, however he thinks that one of the factors in the peace talks between the parties had been fear in the face of cold.
"The peace process seems to have started, but we should understand that this peace process was only conditioned by the fact that we are on the brink of winter and the 4,5 million people who were left on the territories that are under Ukrainian control in Donbas have to survive this winter. The fear of the winter and the forecasts that claim that winter will be cold forced everyone to sit down and talk. However, my opinion is that I would not relax and wait for the spring, as in springtime we have to be fully armed, we have to be prepared for everything, as we are fighting not against Donbas or Ukrainian citizens," said Ihor Kolomoysky.
He also added that the Ukrainians should "roll up their sleeves and be ready for any turn of events."
According to him, at the moment the leaders of the armed separatists are not independent in their decisions on ceasefire and await orders from Moscow, and in Moscow there are "two parties: the part of war and the party of peace, and it looks like today the party of peace is winning."
"The President went down the road of ceasefire and the peace process, and we celebrate this decision. I don't know what peace will me like. We have contacts, both official and unofficial, with the other side. They are also for peace, but they are very dependent on Moscow. The sanctions against Russia are very painful and I am sure that they will increase if the peace process goes wrong," said Kolomoysky.
Also, on Saturday Kolomoysky stated he was not going to create his own parliamentary group in the Verkhovna Rada and has no claims on the seat of Prime Minister.
Tags: Politics