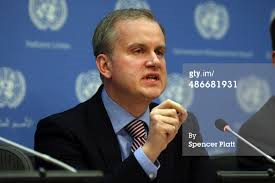 The Deputy Minister of Foreign Affairs Danylo Lubkivskyi announced that he was submitting his resignation because of his disagreement with decisions of the Minister of Foreign Affairs Pavlo Klimkin, reports Ukrainska Pravda
Lubkivskyi explained in his posting on Facebook, September 12, that the main reason for his resignation was the agreement reached by Ukraine, Russia and the EU to postpone the date when the EU-Ukraine [Free Trade] Agreement would enter into force.
"The announcement that the Minister of Foreign Affairs Pavlo Klimkin agreed to today in Brussels surprised me," Lubkivskyi wrote. " There will undoubtedly be rational and practical explanations given. In the past, there were good arguments cited even against our independence. The approved announcement sends the wrong signal to all: to the aggressor, to our allies, and, most important, to the citizens of Ukraine. Right now our economy, as if during a terminal illness, must independently grab its chance at life. A choice cannot be postponed, otherwise it is not a choice. "
As has been reported, on Friday, September 12, an agreement was reached in Brussels that the provisional application of the [Free Trade] Agreement would enter into force only in 2016. Until that time, the EU would grant Ukraine independent trade preferences.
The EU said that this agreement would become part of the complex of "peace agreements" with the Russian Federation. The details of the other elements included in the compromise package have not been disclosed.
Danylo Lubkivsky was responsible for communications at the Ministry of Foreign Affairs. Earlier, he had worked as a speechwriter for President Viktor Yushchenko.
Pravda
, translated by Anna Mostovych
Tags: Association Agreement, DCFTA, Politics, Ukraine, Ukraine's Ministry of Foreign Affairs (Ukraine MFA)