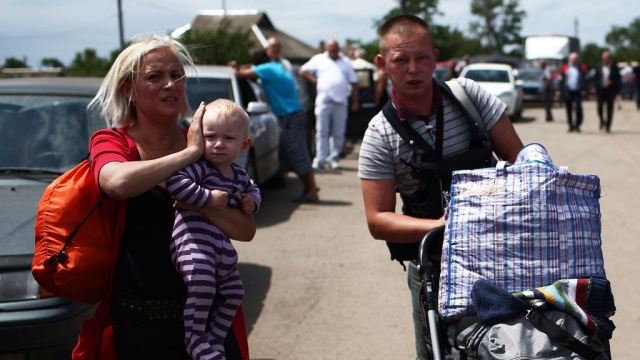 Mariupol has never been so popular. With the shift of oblast authorities to Mariupol, the amount of cars, suits and suitcases on the streets has increased manyfold.
The refugees are also new people in town, they are walking and gazing about, getting accustomed to the sea air and the Ukrainian national flags that hang from every pillar.
This influx came with the emergence of the second front. The volunteers followed the military men. Journalists, UN and OSCE missions staff, spies and merchants — thousands of new people, many of whom would have been looking for Mariupol on the map of Greece a year ago.
Overall, it is not surprising that the streets are filled with confused newcomers with their heads turning in all directions and tears over a map and a compass.
Even though I grew familiar with Mariupol after a few visits, I am in no rush to be a tour guide, save perhaps for making helpless gestures out of politeness. But sometimes it so happens that you meet such a gaze, that you want to approach the person, take them by the arm, and ask whether everything is alright.
"It's alright now," a woman smiles. She has weary eyes of a person who only had enough energy to get to that spot where we met, and the fortitude to save face exactly up to that very moment.
"Why did you ask though?" her eyes are already filling with tears.
I don't know why I asked. It just seems that her story had to be told.
We sit down on the bench from which a view of the sea opens up, and we look at the waves.
The name of my interlocutor is Lyudmyla. She is originally from Ilovaisk. There she lived with her daughter and a seven year old granddaughter: three generations, three pairs of female hands, weaving a modest comfort in an apartment of a five-storey building block.
A job at a factory, pension, market, crossword puzzles: everything is simple, everything is clear.
Their hierarchy of needs would have disappointed Abraham Maslow: it consists solely of the bottom layers and looks more like a rectangle. These women didn't stage Ilovaisk Maidan, just as they did not greet the terrorists with bread and salt. Lyudmyla, her daughter and granddaughter are not passional. This is their only fault before the society, which, nonetheless, is not entitled to judge them.
When the war had crept up very close, people began to flee the town en masse. But it turned out that Lyudmyla did not have any relatives or friends outside of the ATO zone, which is why after the first volleys of artillery, they simply started to spend the nights at a bomb shelter located in the building of a school of civil engineering.
Some ran, others were torn to pieces. The new reality smelled of fear, gunpowder and clotted blood. But when they made their way home in the mornings, amongst the usual tableware, armchairs and photographs, the women would settle down and the world would not seem so cruel, not until the evening.
One fine day, when they returned from the bomb shelter, they discovered a pile of decaying rubble and fragments of concrete slabs in place of their five-storey building. "My house collapsed like a house of cards," Lyudmyla sketches a shrug. She still cannot believe that houses can do this.
After standing and looking at the debris, the women returned to the bomb shelter at the school. Bomb shelter is a polite name for a concrete sack with no lighting an inside temperature of a corpse: one can stay warm only by nestling up to other living beings. When everyone started falling sick, Lyudmyla realized that this is the end. This was how she died the first time.
Shortly, some people, who risked coming here from Makiivka for their elderly relatives, descended into the basement from the zombie-land up above. The old folk turned out to be tough nuts, they didn't want to leave until they dig up their potatoes and can their tomatoes. Lyudmyla, who was present during the conversation, saw the newcomers for the first time, but understood that this could be the last chance for her and the girls, and that the basement etiquette allows crawling up to a stranger and grabbing their hand.
May they take the place of the elderly? Yes, they can. In order to do that, they would need to reach Makiivka by next morning.
At daybreak, the two women and a small girl went out and headed for Makiivka, sneezing, coughing, cheering one another that they would make it on time, and would find their new acquaintances who would most definitely be waiting for them.
Thirty kilometers worth of walking had to be done through the woods, avoiding the roads, with mobile phones switched off, so that the snipers would not shoot at the sound. At the moment when she heard a short whistle, followed by a smack, and the first branch chopped off by a bullet fell in front of her, Lyudmyla understood that now this was definitely the end. This was how she died the second time.
Falling to the ground at one moment, then getting up the next for short spurts, covering the girl with their bodies, the older woman and the mother soon started to realize that the snipers were toying with them: when the women moved too fast, the snipers would shoot at their feet, when they slowed down, the snipers shot at the bushes behind them.
It seemed that this forest of invisible gunmen with a sense of humor worthy of Joker was infinite. Yet it finally ended. Lyudmyla does not remember how they found the car, how they got in, and how they passed the checkpoints. They were dropped off on the road in the middle of a residential street that was dusty, hot and smelling of the sea. The women ended up in Yuriivka, a village on the south edge of Donetsk Oblast.
Lyudmyla grew tired of dying and she decided to carry on walking onwards to someplace. Along the way to someplace, she came across a notice board with the hotline number for a charitable foundation providing help to refugees. The operator replied that she can offer them a choice of two camps Solnechnyi and Metallurh. The choice was obvious: the walk to Solnechnyi was two kilometers shorter.
Lyudmyla interrupts the story, to wipe her eyes with a sleeve of her sweater, the knitted jacket she got from volunteers when it started to get cold. Psychologists are working with the girl. They have offered their services voluntarily, just as the grandmother was losing hope of finding a specialist who would help her granddaughter pro bono.  After making sure that Lyudmyla, her daughter and granddaughter actually have nothing except for worn-out shoes and a pair of hair clips,the charity got down to finding for them a place with heating.
"Only if we could be closer to a city," says Ludmyla. "Any city."
She wants to find a job, so she would not have to ask for anything anymore. So that she would not need to grab anyone's hand. She can do it.
I found the number of one of the psychologists that are working at the Solnechnyi camp, his name is Ihor, and I phoned him. Yes, the woman that I met didn't make anything up. Yes, the situation with the girl is very serious, but she will get through it. She will manage.
When the kids at Solnechnyi were asked to draw something close to their hearts, something that makes them happy, Sasha, that is the name of the girl, drew a tree. At first, she did not want to talk about it, but then she explained: this is the tree that grows near her home.
"Neither the house nor herself are on the drawing." says Ihor. "Only the tree."
Tags: Donbas war (2014-present), Mariupol, Refugees, Snipers