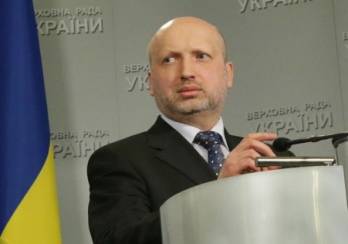 Oleksandr Turchynov, Secretary of the National Security and Defense Council of Ukraine (NSDC) 
Das Ukrainische Verteidigungsministerium wird polnische Drohnen und ukrainische Hubschrauber für Anti-Terror-Operartion- (ATO-) Einheiten kaufen, sagte der Vorsitzende der Werchowna Rada, Oleksandr Turtschynow.
"Bei einem Besuch der Ausstellung [11. Waffen- und Sicherheits-Ausstellung] haben wir den sofortigen Kauf von mehreren dieser Hubschrauber für die Nationalgarde vereinbart. Das Verteidigungsministerium wird diese Hubschrauber auch mit Bewaffnung erwerben," sagte er Reportern während seiner Teilnahme an der Ausstellung in Kyiw am Mittwoch.
Nach Aussage von Turtschynow hat die ukrainische Armee und die ukrainische Polizei darüber hinaus Interesse an unbemannten Flugzeugen gezeigt.
"Es ist für uns sehr wichtig, und unsere polnischen Kollegen wollen diese Produkte an die Ukraine liefern", sagte er.
Er sagte weiter, dass die polnischen Drohnen sehr  ernstzunehmende Spezifikationen besitzen, insbesondere können sie bis zu 15 Kilogramm Fracht, einschließlich Waffen, aufnehmen.
Turtschynow teilte mit, dass eines der Probleme im Bereich der Anti-Terror-Operation für das ukrainische Militär darin bestehe, Ziele zu suchen, zu finden und zu neutralisieren.
"Es gibt hier mehrere Systeme,  die von der Ausstellung direkt in die ATO-Zone geschickt werden, um uns dabei zu helfen, die Drohnen aufzuspüren, die von den russischen Streitkräften für präzisionsgelenktes Feuer auf unsere Positionen eingesetzt werden," sagte er und fügte hinzu, dass diese Produkte in der ATO-Zone getestet würden.
Tags: Deutsch, Drohnen, Hubschrauber, Nachrichten, Turtschynow, Waffen