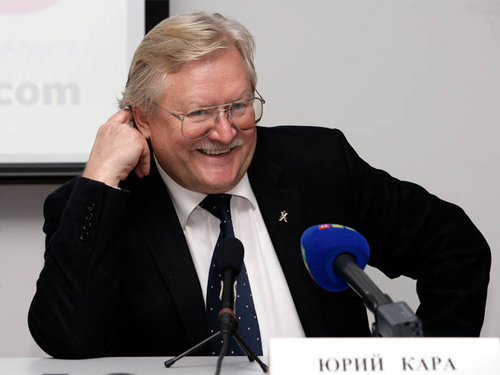 Soviet and Russian director Yury Kara offered to respond to Western sanctions against Russia with a ban on all US movies. He stated this at the expert session, which the Russian National Front held in Moscow on Wednesday, September 17.
"I think that while their [the US] sanctions exist, it is necessary to prohibit all American movies from showing in our movie theaters, and do the same on television. Or, in any case, they can be warned, threatened," RIA Novosti cites Kara's statement made at the session dedicated to the project 'The basis of state cultural policies.'
To his mind, this will benefit Russian cinema – it will allow to shore more movies. Kara added that there are not enough movies about national heroes in the industry.
Yury Kara is a director and a screenwriter. He is the author of the movies Tomorrow There Was War, Master and Margarita, Lawful Thieves. He is a trustee of Russian President Vladimir Putin.
An analogous, but more moderate proposal after the session was made by movie director, fellow chairman of the General Headquarters of the National Front Stanislav Govorukhin. He thinks that American movies in Russia should be limited, and the percentage of European, Korean and Iranian films should increase.
"I think that it would be good to limit Hollywood movies on Russian screens, but not at the cost of Russian cinema, we make about 60 movies, but on account of movies made in countries with rich cinematographic history: Turkey, Korea, Iran, Japan, European cinema," ITAR-TASS cites Govorukhin.
"Because we only watch Hollywood movies and only rarely watch Iranian movies," he added.
Meanwhile Govorukhin emphasized that "it should be a soft policy, but I cannot imagine how to put it in practice."
We remind you that Stanislav Govorukhin is one of the initiators of the controversial law regarding the ban of coarse language during public performance of literature and art, national art in theatrical plays, at concerts and other spectacles, as well as media and movie showings in movie theaters.
We also not that this is not the first initiative to 'cleanse' the Russian box office of foreign movies. In April of the current year Prime Minister of Russia Dmitry Medvedev ordered the government to work on the issue of the possible customs tax on import to Russian territory of foreign films with low commercial potential and implement direct taxes on the showings of foreign movies.
Tags: International, Russia, Russian propaganda