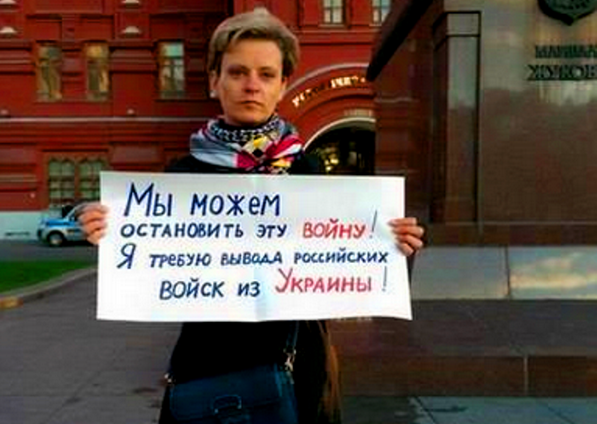 By Peter Dutczyn; photo caption: "We can end this war! I demand to immediately remove Russian troops from Ukraine"
In Moscow police have detained participants in protests against the war in Ukraine, according to a report by Russian editorially independent radio station Ekho Moskvy (Ekho Moskvy, 22:00 Kyiv time, 31 Aug). "The first anti-war protest was this evening staged on Tverskaya Ulitsa as one-man pickets. Six people have been detained, including composer Aleksandr Manotskov," the newsreader said. "The second protest – in memory of those who have died in Ukraine – started at 21:00 hours Moscow time, on Ploshchad Yevropy (Europe Square) outside the Kiyivska railway station. People who came to the square wanted to light up candles in memory of those who have died but they were not allowed to do so. According to preliminary information, seven people have been detained," she added. According to the website of the OVD-Info human rights project (website of the OVD-Info human rights project 1930 gmt 31 Aug 14), activists Mikhail Lashkevich, Dmitriy Fedorov, Irina Yepifanovskaya and Ildar Dadin are among those detained.
Aleksandr Ryklin, one of the picket organizers, explained that the protest had been prompted by the worsening situation in Ukraine. "Russia has launched open aggression, Russia is fighting against Ukraine and one cannot put up with this," Ryklin said.
According to the website of Russian internet and satellite broadcaster Dozhd TV, writer and journalists Viktor Shenderovich took part in the picket on Tverskaya Street, holding a poster "War against Ukraine is a disgrace and a crime". According to the same report, musician Vasya Oblomov staged his own picket outside the State Historical Museum near Red Square in Moscow. His poster read in English "Make love not Novorossiya". Novorossiya is a separatist-controlled area in southeast Ukraine.
According to a report by Russian agency Interfax (19:00 Kyiv time), activists of the Other Russia unregistered party today staged an authorized rally in Triumfalnaya Ploshchad (Square) in Moscow. The opposition party expressed support for the pro-Russian militia fighters in Ukraine. "The situation in the southeast of Ukraine and, in particular, a collection of aid for refugees and residents of the Donbas region, were the main topics discussed by speakers at the rally," the report said.
According to one of the organizers, Aleksandr Averin, about 200 people attended the rally. The leader of the party, Eduard Limonov, did not take part as he is recovering after surgery, Interfax said. Meanwhile, according to another Russian Interfax report at 17:39 Kyiv time, seven Other Russia supporters were detained in St Petersburg when they tried to stage an unauthorized rally there.
Tags: Help Ukraine, International, Protest, Protests, Putin, Russia