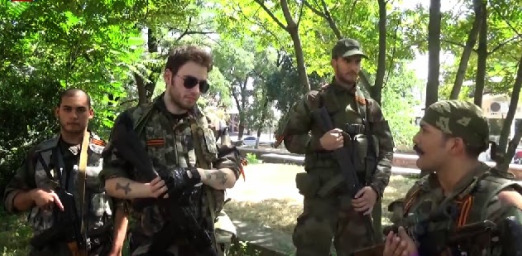 By Anton Shekhovtsov; photo: (from left to right) Mickael Takahashi, Guillaume Lenormand, Nikola Perovic, Victor-Alfonso Lenta in Donetsk, August 2014
An Internet TV channel of (pro-)Russian extremists has published a video featuring four Frenchmen who came to Donetsk in Eastern Ukraine to fight against Ukrainian forces. They do not say their names and think that France will not know of their participation in the terrorist activities in Ukraine. Now it's time to reveal some of their secrets.
This video and other evidence I have gathered suggest that Guillaume Lenormand, Nikola Perovic and Mickael Takahashi, as well as Hungarian right-wing extremist Ferenc Almássy, first came to Moscow in the second half of June where they met Russian citizen Mikhail Polynkov. The latter is engaged in assisting international extremists to get to Eastern Ukraine.
From Moscow, Lenormand, Perovic and Takahashi went to Rostov-on-Don. There they were trained for two weeks and then sent to the Ukrainian city of Donetsk which is currently under the terrorist control. Either in Rostov-on-Don or already in Donetsk, they met another Frenchman: Victor-Alfonso Lenta.
Guillaume Lenormand (b. 9 April 1988) is coming from Normandy where he has been participating in various ultranationalist movements for ten years: Jeunesses identitaires(Young Identitarians), Parti de la France (Party of France), and Troisième voie (Third Way). "Lenormand" is most likely a pseudonym.
Victor-Alfonso Lenta (b. 1989?) is coming from Toulouse. He is a former corporal of the 3rd Marine Infantry Parachute Regiment, and served in Afghanistan, Chad, Ivory Coast and Gabon. He is said to have been kicked out from the army for his involvement in a neo-Nazi group. On his return to Toulouse, he actively participated in the Jeunesses identitaires.
Nikola Perovic (b. 1989?) has dual French/Serbian citizenship and apparently lives in Belgrade. He is a former corporal of the 13th Battalion of the Chasseurs Alpins and served in Afghanistan.
Michael Takahashi (b. 13 October 1987) is coming from Paris. He is an ardent supporter of Syrian dictator Bashar al-Assad and has been cooperating with various ultranationalist groups in France and Serbia.
So, what are these Frenchmen doing in Eastern Ukraine? All four are extreme right activists who are influenced, especially Lenormand and Lenta, by the ideas of the European New Right. The four Frenchmen have founded a group called "Unité Continentale" (Continental Unity), and its manifesto provides further insights into the ideology they share.
They believe that the French government is "a puppet of Brussels" and that NATO is "a terrorist military alliance that uses French army to serve the interests of banks". The EU, in their view, denies France's national sovereignty, while France itself is "a slave of the American Empire that dictates the country's foreign policy and directly interferes in the domestic policy".
The solution of the alleged problem, according to the Unité Continentale, is Neo-Eurasianism, an ideology elaborated by Russian fascist 
Aleksandr Dugin
, which they call "Continentalism". It rejects globalisation and liberalism, as well as advocating the destruction of the EU. Instead, they promote "cooperation between the major nation-states of Europe and their respective areas of influence". Russia would play an important role in this cooperation and, especially, in their fight against "Anglo-Saxon globalism, Atlanticism and the decadent West".
The 
Unité Continentale
's ideologues do not see the conflict in Eastern Ukraine as Russia's long-planned war on Ukraine. Rather, they think that the US and the EU have attacked Eastern Ukraine. Therefore, by killing Ukrainians, the 
Unité Continentale
 is waging a war on the US and EU. In an 
interview
 to one Russian website, 
Lenormand
 says that he believes that the West has started the Third World War in Lybia and Syria and it has now spread to Ukraine. Russia, in its turn, has challenged "the international globalism", and the 
Unité Continentale
 is happy to assist Russian forces and its proxies in Eastern Ukraine in murdering Ukrainian people.
They call it "Eurasian solidarity".
Tags: Donbas, Eurasianism, France, International, Russia, Ukraine