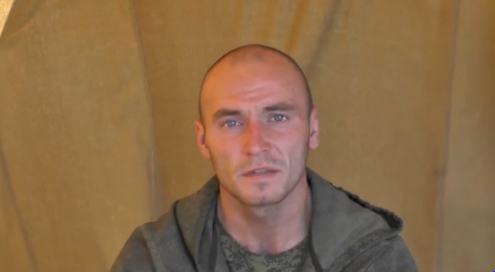 The servicemen that were arrested on August 25 in Donetsk oblast near the village of Dzerkalny in Amvrosiyivka district are airborne soldiers from the 331 regiment of the 98 Svir division of the Russian Armed Forces, based in Kostroma.
They state this themselves on video during a questioning by the Ukrainian servicemen.
According to the Russian servicemen, they got orders to arrive near Rostov on the Don by railway for military training. At the echelon location base they were ordered to paint the military vehicles' license plates white, with the explanation that this was to differentiate various departments during the training process.
After marching for several dozens of kilometers, these servicemen ended up on Ukrainian territory, where they were met with fire of the Ukrainian Armed Forces.
Ukrainian servicemen arrested 10 Russian airborne soldiers near Dzerkalne. This was reported by the SBU press service on Monday.
"The joint operative group of the Ukrainian Armed Forces and the SBU arrested ten servicemen from the 331 troop of the 98th Svir division of the Russian Airborne Forces (#71211). The Russian servicemen were arrested together with their personal documents and weapons. They testified that the airborne battalion was relocated by railway to Rostov oblast in Russia on August 23, and around 3 a.m. on August 24 the department was woken up with an alarm and given orders to march in a column together with several dozen BMD's," noted the Security Service.
According to Defense Minister Valery Heletey, ATO troops have captured many Russian servicemen who were fighting against the Ukrainian army. However, it is yet unknown whether the Minister was talking about the same Russian soldiers the SBU was.
Ukraine and the West are accusing Russia of supplying mercenaries and weapons to Donbas. Moscow is denying the allegations. The antiterrorist operation in the east of Ukraine has been going on since April.
The interviews, from the youtube channel of the Information Resistance group:
(Has been transcribed by The Interpreter "They brainwash us Russians, I'll tell you that. In fact, everything is different. Not the way they say on television. But we simple guys, they tell us what to do, we do it. We're coming here like cannon fodder. We don't know why, or for what reason. That's it.")
---
Source: Radio Liberty
Translated by Mariya Shcherbinina