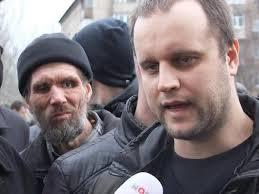 The self-proclaimed "people's governor" of the so-called Donetsk People's Republic (DNR) has fled to Russia, following his fellow terrorists, reports the Ukrinform news agency, August 26, citing the Russian publication Snob.
According to Snob, DNR representatives confirmed to Snob's reporter that Gubarev had left Donetsk for unknown reasons and had gone to Russia.
A passenger on the same plane as Gubarev reported on condition of anonymity that Gubarev arrived in Rostov-on-Don on Tuesday, August 26, on a night flight from Simferopol.
"Gubarev was dressed in some light camouflage and looked nervous," the witness stated. "He was met by two people with a shabby appearance, not at all like bureaucrats, more like fellow fighters. He was on a regular night flight. He has gained weight," he said.
Another DNR official, Tetyana Dvoriadkina, stated that she had heard of  Gubarev's departure but did not know where he went. "Gubarev really has left Donetsk. They said he went to Rostov," she said.
Neither the "people's governor" himself nor his wife, a lawyer and assistant, answered the reporter's calls, possibly because their phones were out of range. DNR's representative in Russia, Andrey Rodkin, stated that he has not been in touch with Gubarev for some time and does not know where he is.
Previously, the former DNR "prime minister" Oleksandr Boroday had also left for Russia. Subsequently, he was seen walking on the Arbat Street in Moscow. Boroday himself said earlier that he often traveled to Russia to confirm that Russian authorities had not abandoned the DNR. Russian media explained that his trips to Russia were due to his restaurant business in Moscow.
Additionally, Igor (Girkin) Strelkov, one of the leaders of the Donetsk terrorists, was dismissed as "defense minister" of the DNR in early August. According to Ukrainian journalists, Strelkov was wounded during a clash with the new "prime minister" Oleksandr Zakharchenko, who replaced Boroday. Apparently Girkin's finger was shot off and he and was wounded in the leg." He is probably licking his wounds in a hospital in Rostov, Ukrinform concludes.
Ukrinform, translated by Anna Mostovych