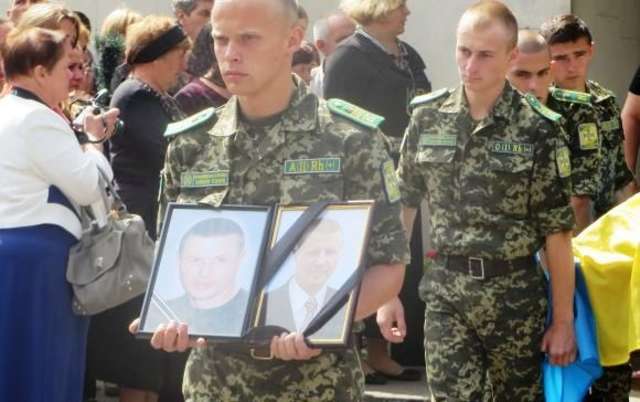 Khmelnitsky and Płoskirów said goodbye to two of its heroes:  One Ukrainian and one Pole, Greek Orthodox and Roman Catholic. Both fought in the battalion Dnipro 1 against Russian invaders. They were buried next to each other.
The bus driving the soldiers was ambushed by Russian terrorists on August 12th. Twelve  Ukrainian soldiers were killed. The funeral took place just recently because the terrorists had demanded money for the corpses. In the end, they agreed to exchange the bodies for a few living Russian terrorists.
43-year-old Volodymyr Wełyczko and 49-year-old Leonid Smolinski went through the Kyiv Maidan revolution together. They were friends. When Russia invaded Ukraine, they joined battalion Dnipro 1 as volunteers together.
Wełyczko recently baptized his youngest child in Khmelnitsky. His mother sensed something. She asked him not to return to the East. But Volodymyr could not stay. He said he could not leave his boys, and was gone.
One of their companions mentioned that Smolinski used his Polish contacts to get equipment for their battalion.
The friends were buried next to each other. They received their last sacraments by two priests, a Roman Catholic priest and an Orthodox priest. Their graves mark the beginning of the Avenue Of Merited Heroes.
Khmelnytsky (Ukrainian. Хмельницький, Chmelnyćkyj), named Płoskirów until 1954: This is a district capital city with 260 thousand inhabitants situated 230 km from the Polish border. There are several Polish organizations throughout the Khmelnitsky district, such as: Charters of Union of Poles of Ukraine, Union of Polish Teachers in Ukraine, and the football club Polonia Khmelnytsky. Also located there is the Roman Catholic Church parish: Church of Christ the King, built in 1995. According to data from the 2001 census, Poles represent 2.0% of the population.

Source:
Kresy.wm.pl
, translation by Rafael Szlom, edited by Lisa Spencer
Tags: Donbas, Donbas war (2014-present), News, Poland