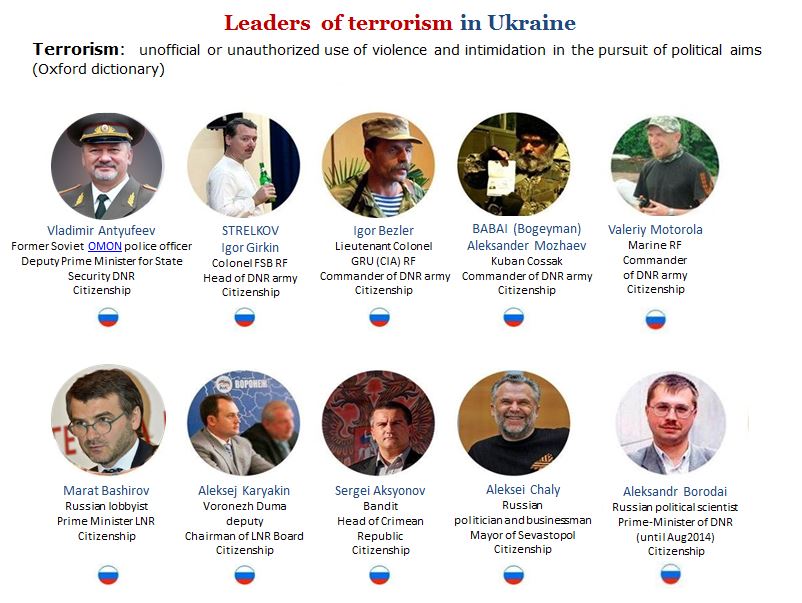 Covert operations to provoke unrest in eastern Ukraine were planned by Kremlin along with the annexation of Crimea.  Putin prepared a hybrid war including propaganda lies made up as an excuse for grabbing Ukrainian land.
Vladimir Antyufeev (or Antyufeyev,  also known as Vadim Shevtsov)
Former Soviet OMON police officer, Deputy Prime Minister for State Security DNR
Citizenship Russian Federation 
Antyufeev/Shevtsov is a former Soviet-era intelligence officer. He had "fought national fascism" alongside Russian separatists in the Transnistria region of Moldova and later in the breakaway regions of Ossetia and Abkhazia of Georgia. 
Russian-born Shevtsov is reportedly a "specialist for creating new independent states".
He has deep ties with Russia's security services. Shevtsov was a police commander in the former Soviet republic Latvia, where he remains wanted over an attack that left six dead in 1991 after the country declared independence.
Moldova's media compared Antyufeev to Stalin's notorious secret police chief Lavrenty Beria and accused him of creating an atmosphere of intimidation, abuse of power, misappropriating public funds and destroying sensitive evidence. He managed to flee to Moscow.
Antyufeev/Shevtsov was appointed as deputy prime minister of self-proclaimed DNR with control over security and the interior ministry. He decides who can access the MH17 crash site and the route conflict monitors from the Organization for Security and Cooperation in Europe take.
The European Union has blacklisted Mr Antyufeev as "persona non grata".
Strelkov (Igor Girkin)
Colonel FSB RF, Head of DNR army, Citizenship RF 
Russian nationalist, a former military intelligence agent and Federal Security Service (FSB, successor of the Soviet KGB) Colonel Girkin fought on the pro-Moscow separatist side in the conflict in Moldova's breakaway region of Transnistria. Bosnian media accused him of involvement in Višegrad massacres in which thousands of civilians were killed in 1992. Strelkov was directly responsible for the forced disappearance and presumed murder of residents in Chechnya's in 2001–2002. He confirmed fighting against the "local population" there; also he was involved in Russia's annexation of Crimea. Ukraine authorities charged him with terrorism. The European Union sanctioned him for his leading role in the insurgency in eastern Ukraine and as a GRU staff member believed to be a coordinator of armed actions in Crimea.
In one of his public appearances related to insurgency in eastern Ukraine, he admitted that his separatist army was formed in Crimea and consisted of mostly Russian Armed Forces veterans with combat experience from the wars in the former Yugoslavia, Iraq, etc.
The documents left behind in his headquarters after retrieving contain execution orders and demonstrate Girkin's extreme decisions not only towards dozens of his hostages in Slavyansk including Organisation for Security and Co-operation in Europe (OSCE) observers. Girkin/Strelkov executed two of his own men after they were sentenced for "looting, armed robbery, kidnapping and abandoning the battle field". The order was posted in the streets in Slavyansk and referred to a decree of the Presidium of the Supreme Council of the USSR of 22 June 1941 as the basis for the execution. On July 24, Ukrainian authorities exhumed several corpses from a mass grave site on the grounds of a children's hospital in Slavyansk with bodies executed by order of Strelkov. Among the identified victims were four who the police and locals said have been kidnapped on June 8 after attending a service at their church, falsely accused of helping the Ukrainian Army, robbed for their cars, and shot the following day.
On the same day as MH17 was shot down, several independent sources referred to a post in Russian social media where Girkin was bragging for shooting down an airplane around location and time of MH17 tragedy, later the post was removed. Girkin issued a statement according to which " the plane flew on autopilot from Amsterdam where it had been pre-loaded with corpses." Girkin instructed his men to deliver the found valuables from the plane to his headquarters for the Defence Fund of the DPR.
In July, Ukrainian authorities alleged coordination of Girkin's military actions by Russian Defence Minister Sergei Shoygu with Putin's approval. "We have proved beyond a doubt that Strelkov and other terrorist leaders are equipped with the most destructive weapons and instructed directly by Shoygu," Anton Gerashchenko, adviser to the Ministry of Interior Affairs said. The Ukrainian Ministry of Interior Affairs reported that as soon as the armed groups managed to punch holes in the Ukrainian border in May, Girkin's forces received all the weapons they needed, including mortars, RPGs, APCs, tanks, Grad and rocket launching systems.
Igor Bezler (Bes for "the Demon")
Lieutenant Colonel GRU RF, Commander of DNR army, Citizenship RF 
Igor Bezler served in detachments of the Russian General Staff military intelligence agency GRU retiring as a Lieutenant Colonel. This is an officer who went through Afghanistan and Chechnya wars. In 2002 Bezler moved to Ukraine. 
Bezler was contacted by agents of the Russian General Staff GRU in February 2014. Complying with their instructions, Bezler moved to Crimea where he participated in taking over of military installations and government facilities. Then as a member of a diversion group, Bezler helped to take over the SBU headquarters in Donetsk Oblast and the MVS district department in Horlivka  in April of 2014.
Bezler, as other commanders of armed groups in eastern Ukraine, has taken hostages. Journalists witnessed him saying "Those who are fighting with the Ukrainian army, we keep as prisoners. Those who are fighting with volunteer battalions, we question them and then shoot them on the spot. Why should we show any pity to them?" Then he threatened to execute these journalists as spies if any compromising material would be found in their notes.
Ukrainian officials connected Bezler with shooting down Malaysia Airlines flight MH17 . Bezler made a phone call and reported to a person identified by Ukraine's SBU as Vasili Geranin, a colonel in the main intelligence department of the general headquarters of the armed forces of the Russian Federation, regarding the shooting down of a plane (at the time and location of MH17 tragedy.) According to the recording of a phone call allegedly made two minutes before the disaster, Bezler was told: "A bird is flying towards you." He asked whether it was small or big, and was told that it was hard to see, as it was flying high above the clouds. In another recording, apparently made 20 minutes later, Bezler reported that a plane had been shot down.
More coming soon…