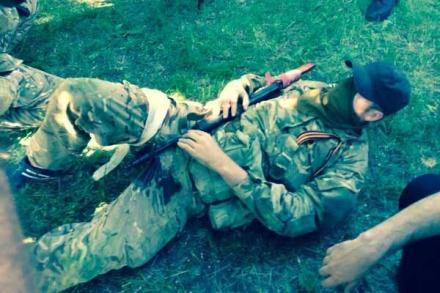 Journalist Vsevolod Filimonenko reported on his FB page that several wounded Russian conscripts were identified in Luhansk Regional Hospital, which is now controlled by Ukrainian troops.
He wrote that the soldiers, "who came to fight on the side of the terrorists had been promised a financial reward"; these young men are between 18 and 20 years old.
"According to the soldiers, they decided to go to Luhansk after watching Russian TV; they were sure that Ukraine was no more, and that the "NovoRossiya" army is invincible and captures new towns and villages every day." writes Filimonenko.
The illusions of these young soldiers were quickly dispelled after their unit made an unsuccessful attempt to break out of Luhansk towards Lutuhyno where their "group suffered significant losses and handed over almost without a fight a brand new Russian armored vehicle BTR to the Aidar Battalion".
"We didn't know what's really going on! Please, take me home to my mother in Rostov." the journalist quotes the request made by a seriously wounded Russian conscript of the attending Luhansk doctor.
The journalist from HromadskeTV tweeted that about eight soldiers from Pskov (Russia) are in serious condition at the Regional Hospital of Luhansk. They cannot be transported; another 30 men were sent to the hospital in Rostov (Russia). They all admit that they did not know what they were doing in Ukraine.
Source:
cripo.com.ua,
  translated by Christine Chraibi
Photo: wounded Russian soldier