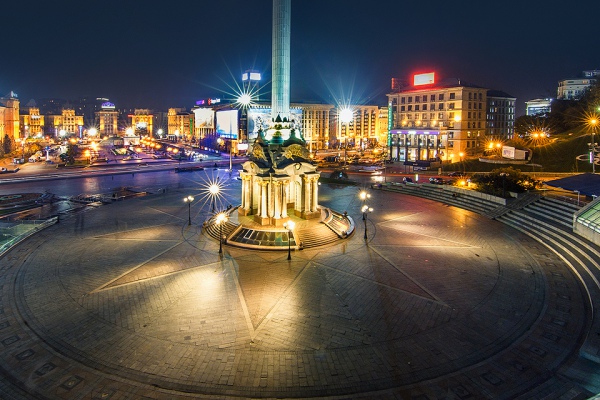 Photographer Yevgen Nikiforov took static shots of Maidan Nezalezhnosti from the same point throughout 10 months – between October, 2013 and August, 2014. At first, it was a project for his personal archives, later it served to document the events that have become historical for the country. The last photo from the series was taken on August 17.
Yevgen was one of the many photographers who spent a large amount of their free time on Maidan during the fall and winter events and documented the national rebellion. The photographer took pictures of Maidan for several Ukrainian and foreign publications. And many were taken for his personal archive, which soon became relevant and were published in two books dedicated to #Euromaidan.
"I worked outside of Ukraine for almost a year before Euromaidan, and I returned at the end of summer 2013. In October I decided to take a couple of pictures of the Kyiv city center for myself: I planned to go work abroad again soon, I wanted to preserve my memory of the city's image.
For personal reasons, I stayed in Ukraine, and the first protests began a month afterwards. I took a lot of street photographs in the fall and winter – the evolution of all the barricades along the perimeter of the camp, the field kitchen, art objects on Maidan, portraits of the protesters. 
At one moment, already in the beginning of December, I remembered those shots I took in October from the observation deck in front of hotel "Ukrayina." Maidan life was very dynamic back then, and the internal structure changed almost every week. 
I decided to conduct a visual analysis of sorts – what will the protest epicenter look like in time. Taking photos from a single point is a simple and convincing method to document the chronology of a location, as every next shot is already different from the previous one. 
The viewpoint is a little off in one of the pictures – it seemed dangerous to work with a tripod for a long time at the moment, and plus the standard point was technically unavailable at the time. The end of this series was unpredictable. In reality, it remains unclear even now."
Ukrainska Pravda.Life offers this still story for your viewing: starting with calm, pre-revolutionary Maidan, the peace protest, the development of the camp, the clashes with the police, the dismounting of the Christmas tree, the barricades and a full cleanse of Maidan from the remaining tents.
All the pictures belong to Yevgen Nikiforov
---
Source: Ukrainska Pravda. Life
Translated by Mariya Shcherbinina
Tags: EuroMaidan, Kyiv, Maidan, Ukraine