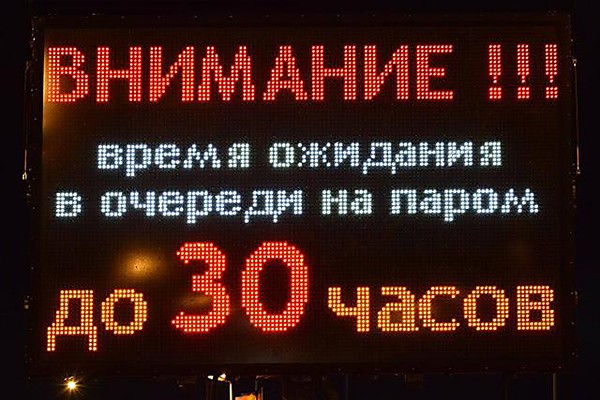 The local "government" will try to battle the lines at the Kerch ferry with the help of implementing a system of tickets, which will preserve information about the number in line, time and date of issue, as well as the license plate of the car in question.
Such a decision was made during a meeting regarding the cooperation of various infrastructure services at the "Crimea-Caucasus" ferry, reports Kerch website kerch.com.
The tickets will be issued at cash registers, planned to be opened at the parking lot at the Kerch airport.
"The people will take these documents and head towards the ferry or fishing port with a traffic police escort. "Subsidy-holders" will reach the ferry independently. This system is to be implemented starting Tuesday, August 19. Special numeration will be introduced for subsidy holders with a high authentication level to prevent falsification and re-selling," reports the publication.
It is promised that an electronic screen will be set up at the road near Kerch on the morning of August 18, which will broadcast information about the expectation time and rules of forming the line at the ferry in the airport," reports the publication.
It was reported that on August 14, the line of those willing to take the ferry from Crimea to Russia reached its peak at 12 kilometers in the city of Kerch.
In the morning many cars that departed from Kerch for the ferry stopped in the middle of the road, as they ran out of fuel. The drivers who actively used air conditioning and who were forced to move very slowly in line during the night, had no idea that there is not a single working gas station between Kerch and the ferry.
To avoid a transportation collapse, the local "government" stop cars headed for the ferry at the entrance to the city. Later these cars were directed to a parking lot based at Kerch airport.
Specialists warned that the number of people leaving Crimea by ferry will continue growing.
---
Source: Krymr
Translated by Mariya Shcherbinina