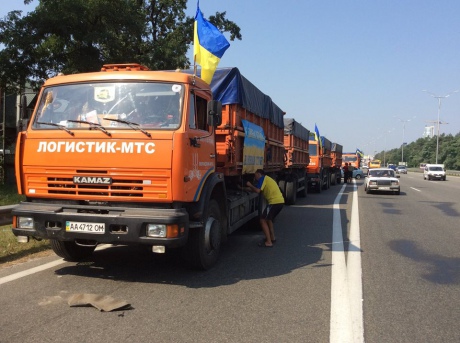 According to the Information Center of Ukrainian National Security Council, trucks with Ukrainian humanitarian aid for Luhansk Oblast departed Thursday afternoon from three Ukrainian cities: Kyiv, Kharkiv and Dnipropetrovsk.
In Luhansk Oblast, in accordance with international norms, humanitarian aid will be passed to the Red Cross so that the international mission could deliver these goods to the people in cities and villages controlled by Russia-backed terrorists. Ukrainian government and the international community hope that terrorists will guarantee free passage of humanitarian aid and ensure its safety.
Iryna Herashchenko, Presidential Envoy on the peaceful settlement of the conflict in eastern Ukraine, stated on her Facebook page that in general 75 trucks (including 19 from Kyiv and others from Kharkiv and Dnipropetrovsk) with 800 tons of humanitarian cargo are departing for the Luhansk region. Since July 6, the Ukrainian Civil Service on Emergencies has delivered  250 tons of food products, 800 special rations, more than 9000 liters of water and thousands of loaves of bread to the eastern part of the country.
Ukrainian Minister of Infrastructure Maxim Burbak announced that the humanitarian aid from Kyiv was sent to Starobilsk, Luhansk Oblast by order of the Prime Minister Arseniy Yatsenyuk. The aid was financed partly from the state budget and partly by donors.
26 trucks departed Kharkiv carrying 220 tons of humanitarian aid, including 12 tons of bread, 30 tons of flour, 3 tons of confectionery products, 44 tons of water, 21.5 tons of sugar, 30 tons of potatoes, 17 tons of cabbage, 19 tons of onions as well as vegetables and fruit. The humanitarian convoy will be divided into two columns and accompanied by traffic police crews.
Source:
pravda.com.ua
, translated by MFA, edited by Alya Shandra. Photo from Iryna Herashchenko's FB 
Tags: Donbas, Donbas war (2014-present), Humanitarian aid to Ukraine