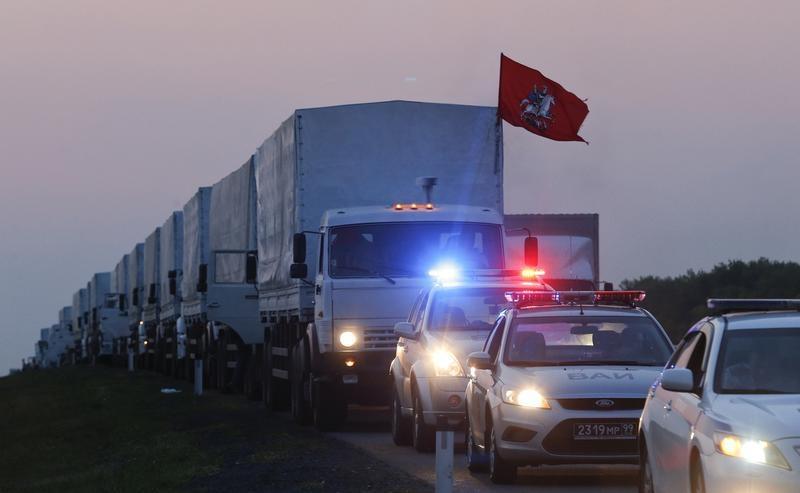 By Anna Shestak
Economist Andrei Illarionov, a former advisor to the Russian president, tells the publication Gordon what he thinks about Putin's efforts to send "peacekeepers" to Ukraine
Once the press learned that Vladimir Putin had announced, in a telephone conversation with European Commission President Jose Manuel Barrosa, that "Russia is dispatching a humanitarian convoy to Ukraine in conjunction with the Red Cross," we contacted the Russian President's former advisor to learn why such "humanitarian missions" are dangerous to our country and how we can resist them.
"In international law, what Putin is trying to do now is called the legalization of aggression," says Andrei Illarionov. "The introduction of so-called 'humanitarian convoys,' 'peacekeeping forces,' or "emergency aid workers" is one stage of the process developed by Russian authorities for seizing foreign territory. First, saboteurs and terrorists begin to operate on foreign territory. When it becomes clear that they cannot prevail against the country's armed forces, then rushing out to help them are the so-called 'peacekeeping forces,' 'humanitarian missions,' or 'International Red Cross convoys' whose true aim is the legalization of separatism, terrorism, and annexation. This scenario is well known, this methodology has been frequently used by the aggressor – in Abkhazia, South Ossetia, Transnistria…
So are we talking about an invasion?
"'Invasion' is a slightly less precise synonym for the more widely accepted term 'aggression', which is understood to be one of the most serious international crimes. The seizure of Crimea, the support of terrorists in Donbas, as well as the appearance of the so-called International Red Cross 'humanitarian convoy' – all fully meet the definition of aggression as established by resolution No. 3314 of the UN General Assembly dated December 14, 1974. It indicates that one qualifying sign of aggression is the deployment of armed forces or other security units by one country on another country's territory without its consent, regardless of what those armed forces are called – even peacekeeping, humanitarian, or a convoy… Although, I think a convoy would not be called a good cause…
We are talking about a serious transgression both in terms of international law and the criminal codes of Ukraine and the Russian Federation."
What needs to be done in order to prevent this?
"It is not only necessary, but essential to officially declare, on all levels, that neither the Ukrainian president, nor the Ukrainian government, nor the Ukrainian Ministry of Foreign Affairs, nor Ukrainian society have given, are giving, or plan to give their consent to this 'humanitarian mission,' 'humanitarian convoy' or 'emergency aid'. Of course, I cannot guarantee that this will stop the aggressor, but it will give the correct evaluation of his actions.
The late Eduard Shevardnadze was, in his time, forced to consent to the deployment of Russian 'peacekeepers' on the territory of Georgia. As a result, the country's consent lost them two regions: Abkhazia and South Ossetia. Ukraine's leadership should not forget that compromise with an aggressor does not save one from aggression. It only exacerbates the situation. Agreeing to an operation with the participation of a Russian 'humanitarian convoy' means a voluntary surrender of and subsequent 'de-convoying' of your own territory."
Source:
gordonua.com
, Photo: Reuters
Translated by Handzia Savytska, edited by Elizabeth Martin
Tags: Humanitarian aid to Ukraine, News, red cross, Russia, Russian invasion