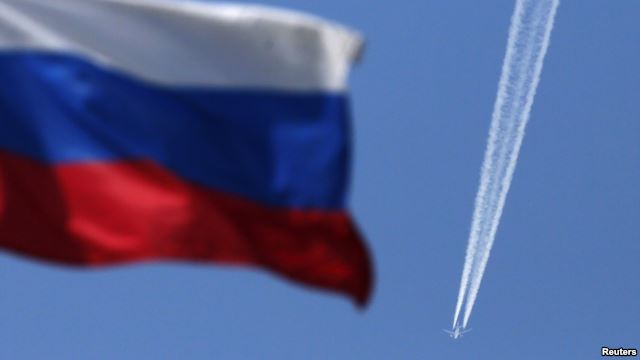 The verbal war between Russia and Ukraine took a strange turn. Pilots of Russian airlines allow themselves anti-Ukrainian statements. A BBC journalist who ended up onboard a Russian flight returning from a Bulgarian resort to Moscow bore witness to the strange situation.
Having boarded the plane in the Bulgarian town of Burgas on August 11, the passengers of Russian airline UTair heard a strange announcement from the pilot:
We don't have any official instructions from the Russian government, but I don't want to fly over Ukraine
The BBC journalist who was among the Russian passengers survived a second surprise when the pilot's words were met with an ovation by the passengers. After this the flight attendants offered the passengers to sign a petition demanding that Russian planes not only over Ukraine "as they were unsure of the safety of such flights because of well-known events happening in this country."
As can be seen on the route map, the route from Burgas to Moscow lies over central Ukraine, far from the combat zone in the east of the country where the Malaysia Airlines plane was downed. Russian media reported that the plane was downed by Ukrainian soldiers, rejecting the version that Kyiv and western politicians insist on, that the plane was shot down by pro-Russian separatists using a missile air-defense system imported from Russia.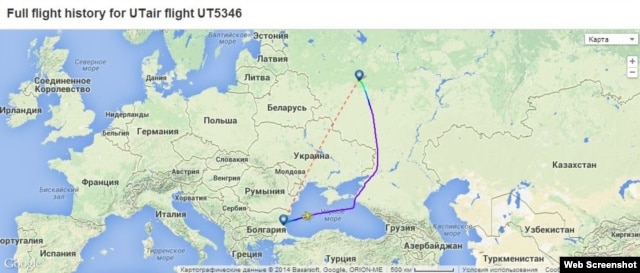 "To land in the capital of the Russian Empire – Moscow" 
It is interesting that such political statements on Russian flights have nothing to do with the safety of the flights and are even made on flights going far to the north of Ukrainian borders. Former editor-in-chief of Internet publication lenta.ru Galina Tuchenko wrote about her friend who landed in Vnukovo airport on her Facebook page.
"Dear Transaero employees, can you talk to your crews, so that they don't broadcast their beliefs to the passengers?
My friend just landed in Vnukovo, called me angrily, he cannot post in on social networks yet, he asked me to do it. Flight UN 252 from Riga, the chief pilot was called Maxim. I will follow with quotes only: "We will fly over Belarus whose air-defense system will protect us from Ukraine and its missiles." Before landing:
We are beginning to descend to land in the capital of the Russian Empire – the city of Moscow.
The same in English. Russian passengers gathered data to write a collective complaint.
What does this look like? How is such a think even possible?"
The company did not take long to investigate, and the results were also posted on Galina Timchenko's page on the following day. The message stated the passengers themselves were worried about the possibility of flying over Ukraine, that all passengers save one, "who was possible the source of information, were satisfied with the high level of service," and as to the announcement before the landing, the pilot "told the passengers the plane was arriving in the capital of the Russian Federation, the hero city of Moscow."
Editor's note: The attitude of Russian pilots appears to be prevalent, with a Slovak embassy employee tweeting a similar story:
En route by Aeroflot to VIE, captain to passengers: "we fly over remnants of Ukraine, where Banderovtsi and other filth lives". Unbelievable

— Martin Kačo (@MartinKaco) August 8, 2014
@b_judah He said so in Russian only, but yes. It's real. — Martin Kačo (@MartinKaco) August 9, 2014
I am still astonished by this story from @MartinKaco who was on the plane, and understood the Aeroflot pilot pic.twitter.com/h4ih8Jayab

— Daniel Sandford (@BBCDanielS) August 14, 2014
Source: Radio Liberty
Translated by Mariya Shcherbinina
Editor: Mat Babiak
Tags: Featured, International, Russia, Russian propaganda, Ukrainophobia