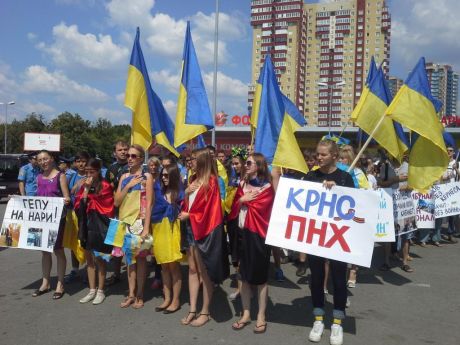 Kharkiv wishes to be Gepa-free and war-free
Protests against infamous mayor Gennadiy Kernes ("Gepa") took place in Kharkiv on Saturday (August 9, 2014). The activists announced the protests beforehand on their social network pages. They distributed hand-outs stating that Kernes was an accomplice of Russia and prepared to announce the formation of a separatist Kharkiv People's Republic (KhNR) before August 23.
"Government votes for war": hand-outs like this one were distributed by activists before the protests.
Here is what the  hand-outs tell us: "Kernes is an accomplice of Russia and he is pushing Kharkiv to war! Read and see for yourself.
Today, on August 6, 2014, the City Council held an open session. During this session the Council had bestowed honorary citizenship of Kharkiv on two Russians, citizens of the enemy country P.Y. Fuks  and  A.G. Shishkin. Shishkin is a member of  the Russian ruling party Yedinaya Rossiya. He voted in favor of Crimean occupation. Those guys also financed the bandits, who then went out to Kharkiv's streets and assaulted innocent people.
Our activists were powerless to stop this shame, as the members of city's government broke the law "On local self-governance" (article 46, p.16) and prevented the activist group from entering the session hall. With typical blatant disregard for the law, they blocked us and held us before the door for 30 minutes, while behind that door criminals were granted honorary citizenship. Who voted in favor of their honorary citizenship?
69 deputies of the Party of Regions and Communist Party supported the motion, while 14 deputies of Batkivshhyna and Svoboda were against it. 3 deputies did not vote. So, with this motion, Party of Regions and Communist Party voted for the war in Kharkiv! Moreover,  Kostyantym Dolgov, the self-proclaimed leader of KhNR, was realeased by the court. Upon his release he started calling for removal of children from Kharkiv before August 15. This is another piece of evidence that a war is under preparation.
They want to re-delcare the KhNR before August 23 and they are ready to start a war. Kernes gave numerous comments where he praised Putin and said that he does not consider Putin an aggressor. Let us stop Russia's accomplices wanting to destroy Kharkiv, like they did Luhansk and Donetsk. Let us prevent the war in Kharkiv! See and decide."
Activist and businessman Gennadiy Hrygorenko wrote in his Facebook that several sewing factories in Barabashovo market were hired to make a load of uniform T-shirts for the separatist supporters. The T-shirts are yellow with KhNR logo on them. According to Hrygorenko's information, to make them the government had to recruit sewing specialists who had left Luhansk. Those people work in shifts to make the needed amount of shirts.
The initial picket has attracted about 100 people, including the police. They signed postcards for Ukrainian military personnel in the ATO zone and declared that their goal is to prevent the war.
Protesters also signed cards and sent letter to Ukrainian soldiers
Also, on Sunday  (August 10, 2014) a meeting of the Kharkiv Euromaidan will take place in the Ploscha Svobody. The following topics will be raised: 1. How to change the government of Kharkiv: experiences of civil resistance of the last weeks, methods to initiate real change in the government. 2. How to avoid being fooled during elections: who do you vote for, when there is no good choice and what should be done to improve the chances of quality candidates.
Kharkiv against war
Also, the constitutional basis of the power and self-governance of local communities will be discussed. Several civil initiatives will present their agenda. They will talk about ownership and management of land in Ukraine, about pratice of self-governance in everyday life and its advantages for Ukrainian communities. Finally, the issue of political lustration and general political questions will be discussed.  
Source:
pravda.com.ua,
translated by Anna Palagina, edited by Alya Shandra