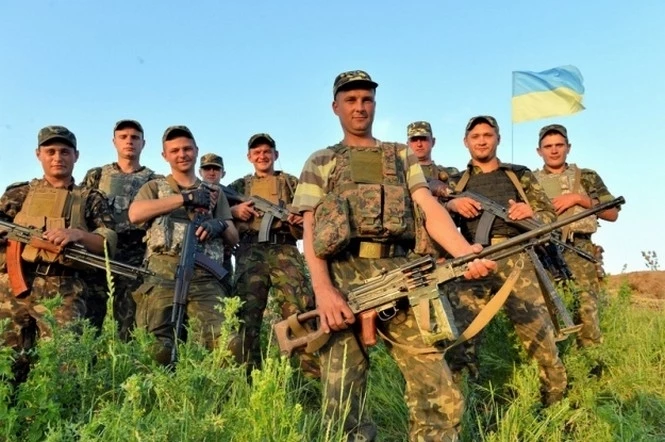 "Ukrainians fight better," this is what Ukrainian soldiers overheard in a radio communication intercepted near the border. "This is no Chechnya, it's a full-fledged army," replied an unknown Russian interlocutor. "We've been battering them for two weeks and nothing."
"In fact, despite all the shortcomings, we fight much better than the Russians, even after the second Chechen war," a Ukrainian blogger writes in his article "[An address] to theVatniki (Russian chauvinistic rednecks)."
They are surprised to admit it, as this intercepted radio conversations of the Russian military attests. They are particularly impressed by the skill of the artillery, military intelligence, and the special forces. The Russians say they were not able to achieve such high-quality artillery work, even after three wars, including the war in Georgia.
The advantage of a European nation and solid national character are manifest: we do not use people as gun fodder in urban fighting; the actions of the main offensive contingent are carefully designed to disturb the balance in the militants' defenses; for this reason the militants, facing the risk of being surrounded or attacked from the rear, withdraw and, under the artillery and air fire, surrender Ukrainian territory inch by inch.
Their tactics have also noticeably changed: there are increasingly fewer madmen willing to make forays against our forces. The inevitable consequence of this is that the Russians are sending into Ukraine ever great numbers of military hardware and manpower, which consists, in roughly equal shares, of Russian military staff and mercenaries who were supposed to turn things around awhile ago. However, so far they have been beaten back and keep retreating.
I think that one of the key factors that still prevents Putin from the large-scale troop deployment is the realization of how much they have been mistaken about Ukraine. The first time they were profoundly and unpleasantly surprised when after the shooting of the Heavenly Hundred there were still more people coming to the Maidan. The second surprise was when Ukrainian special forces retook the Donetsk airport.
Most military detachments, including some of the highest profile ones, refused to fight for the airport. Only the special forces of the military intelligence department took on the challenge. Do you remember what huge losses were suffered by the militants, including Kadyrov's 'cyborgs' [Chechen mercernaries]? According to some reports, there were more than 350 dead militants delivered to Donetsk morgues after the airport battle. I would like to stress that there were only 25 people in our special forces assault group, for some of them this was their first battlefield experience. Together with the Ukrainian aviation they achieved an absolutely incredible feat: they took by assault a stronghold of the enemy who greatly outnumbered them and was better supplied. Only two Ukrainian soldiers were mildly wounded during this operation. This battle will go down in the Hall of Fame of the special forces of the world.
Success of the Ukrainian troops are cooling down Russian hot heads. No one talks about 'pointed' attacks now; on the contrary, terrorists are shouting in panic that tomorrow Ukrainians are going to take back Crimea. You bet we will.
When the Chechen wars raged, your society has created neither volunteer squads nor a countrywide volunteer movement. There was no active support for the army in the media. Your military headquarters were not infiltrated by high-ranking traitors, your president and the interior minister did not flee to the enemy disclosing to them national secrets. Even prior to that these very people have been consciously and systematically undermining the Ukrainian army for four years in a row. The neighboring China was not bringing across to Chechnya supplies, thousands of militants and hundreds of units of modern weaponry, together with the crews of military staff able to operate it. Yet we have to deal with all of this, thanks to Russia's efforts.
Our society has raised its army from the ashes, equipped it, stocked it, and pressed ahead. Indeed, we still have many shortcomings and flaws. We made grave mistakes, there were instances of treason. However, we do not fire at residential areas indiscriminately. We do not torture prisoners in internment camps and do not transport them tied with ropes to APCs.
Russians, you will suffer not only a military defeat but also the greatest moral catastrophe in your history. Your cozy chauvinist world, a prison of nations, will collapse. When we buried the Heavenly Hundred, mournedour dead compatriots, at that grave moment you stabbed us in the back – in Crimea. So when your collapse comes it will be but a small payback for what you brought upon us but refused to admit to yourselves, for rejoicing at the graves of our dead.
Source:
inforesist.org 
Translated by Tanya Kononenko, edited by Mariana Budjeryn
Tags: Donbas, Donbas war (2014-present), Russia, Ukrainian Army