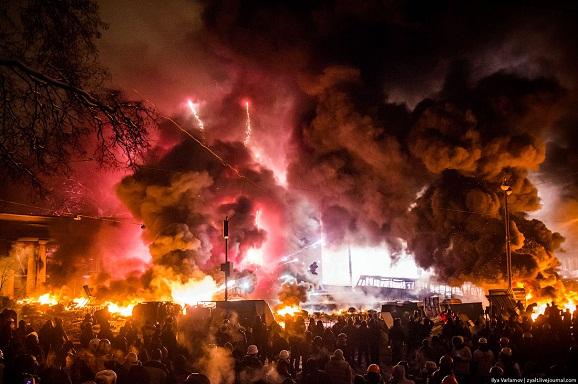 82% of Russians cannot be mistaken. Their illusion of imperialistic grandeur and orthodox trinity was suddenly barbarically interrupted by some Ukrainians that ruined everything. 
82% of Russians think that something happened to the Ukrainians, that they were zombified and now, at gunpoint, or under influence from American mental radiation, are being made to ignore the bloody crimes committed by the fascist Junta. And not to notice the Junta itself either. That any normal Russian has no doubt that "something happened to the Ukrainians," and what became the reason for a completely comprehensive (for them) military campaign "Let's save our little brothers!," evokes rejection, anger, and disgust from Ukrainians.
So what happened? What happened to the Russians is obvious: they've gone cuckoo. They entered their usual state of mass mental illness, where up is down, war is peace and Kiselev is a journalist. And what happened to the Ukrainians?
The thing with Ukrainians is more complicated. What happened to the Ukrainians can only be understood through the Russians' perception of them. The fact that the majority of the citizens of the neighboring country have noticed that there is something amiss with us, has to be the key to solving the puzzle.
Of course, it is not right to transfer the mechanisms of personal psychology to social, collective processes. But if one really wants to, then why not? We will not pretend to be scientists and will therefore examine the mass psychosis phenomenon through the prism of such a personal illness as psychosis.
Psychosis in itself is a psychiatric disorder, a specific perception of the world, which distorts the picture of the world so much that it completely breaks with reality. An alcoholic sees demons, when there are no demons, or only mice, but otherwise nothing that can be mistaken for a demon, or be seen. Or someone who is paranoid, who is sure that his neighbors are subjecting them to space radiation, does not find it strange that nobody has lived in the neighboring apartment for an entire year, and that it is empty. All pathological hallucinations, illusions, don't require proof and are not based on reality. They are reality, constructed by a damaged psyche out of nowhere.
So what happened to the Ukrainians, what made their Russian neighbors so concerned? In sum, Ukrainians happened. They emerged, burst into the Russians' reality as an occurrence and a collective whole. The collective mind of the Russians, subject to imperial illusions, suddenly noticed them. It noticed them and registered them as part of its sick reality.
It turned out that there are some sort of Ukrainians and that they are bad, because they are wrong. "We hate them because we hate us. Our people have long ago decided that we have to be on their territory. And they are against it. They are resisting. They dare fight. Hypocrites! We thought they didn't exist, that there is a single nation and a single country. And they, a Department of State project, do exist, it turns out. Not like us at all. Where we, the Little Russians, and our lands used to be, suddenly they appeared. It isn't fair. We want to reestablish the fair picture of the world, where they don't exist. And they don't agree! They are laughing in our faces and living healthily to spite us. They are not like us at all. No familiarity whatsoever. Fascists! A product of hell and America's Banderites!"
82% of Russians cannot be mistaken. Their illusion of imperialistic grandeur and orthodox trinity was suddenly barbarically interrupted by some Ukrainians that ruined everything. We should be happy about this occurrence. Even if the sick collective mind noticed our existence, this means that we did happen.
The emergence of Ukrainians as a subject in the Russians' imperialistic illusion made us enemies, provoked ardent hatred. They don't want to enslave us or force us into brotherly, but God forbid, a perverse love of nations. They want to destroy us, because we are an alien element that disrupts their reality.
Now the time has come to feel the ground underneath our feet, "ground ourselves," look around and act here and now, as a self-sufficient subject. Now our century-long attempt to convince them of our existence, our call, which is flying into the Big Russian void, full of chauvinistic tales about the artificiality, unnaturalness of Ukraine and Ukrainians: "We are here! We are a people! We are a country!" has reached its destination. We have been noticed, the reflex work, they see us as something else, something alien and started hating us. Now the very fact that Ukrainians exist is confirmed by the Russians, even the most insane ones. We can stop proving something to them, knocking on their doors and convincing them. 82% of Russians feel our presence in our world night and day, they feel it and go mad.
We, the Ukrainians, have to admit that we no longer have to fight for our identity. The time has come to fight for our existence. Therefore it's time to stop naïvely broadcasting to the world our beauty and pacifism in a Maidan fashion, hoping that our dream of a beautiful world for everyone will thaw the ice in the souls of our enemies. We have to stop trying to convince the madmen that we merit their love and respect. 82% of Russians think that something is wrong with us and are ready to fight us, striving to eliminate us, crush us, erase the very memory of us from the face of the earth.
They hate us. And the time has come to prove that we merit their hatred and pose a threat to their insanity with our very existence.
Source:
Espreso.TV

Translated by Mariya Shcherbinina
Tags: EuroMaidan, International, Ukrainian crisis