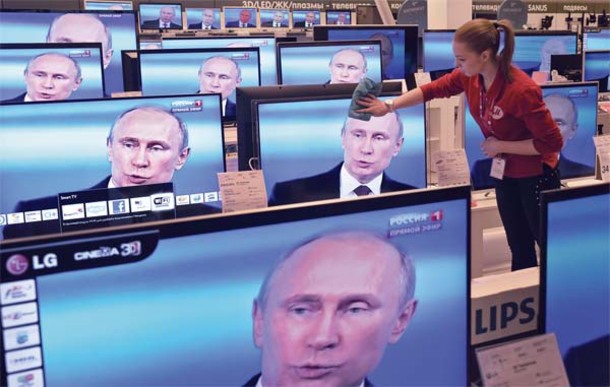 Ukraine under Western Eyes (but through tinted Russian spectacles):
Putin's propaganda machine and how to smash it
By Steve Komarnyckyj

If you are a Ukrainian, or of Ukrainian origin, in an English speaking country you can sometimes feel like you are in the film Invasion of the Body Snatchers. People who see your name, ask where it's from and on hearing you are Ukrainian, some of them parrot automatically some phrase that could be written in some airless office in the Kremlin. "You're Ukrainian? They're all Nazis aren't they?" "Ukrainian? Isn't that the same as Russian?" "Isn't there a Nazi junta in Kyiv?" Their eyes glaze over and their voice is suddenly not that of a reasonable human being, but almost robotic. It's like the world's largest ventriloquist act, Russian chauvinism speaks without moving its lips. People are looking at you through a lens tinted with propaganda and all they see are shadows. I have found myself having to deliver historical lectures all to prove that I don't have a swastika tattoo and yes, pinch me, I am real. It's even worse when you open the pages of the Guardian and come across articles by Milne and Luhn which call your people Nazis, accuse Ukrainian soldiers of "killing and killing" and argue that your country should be allowed to die. I realise of course that many English speaking people do not share these views. However many of them, including leading politicians and journalists, do regard Ukrainians as fascists. Who put these words into their mouths? And how can Ukrainians use their unique experience of Russian propaganda to help the west defeat Putin?
The problem to begin with is that many Russians believe that Ukraine does not exist and hate Ukrainian identity. As Bogomolov and Lytvynenko note in a 2012 Chatham House briefing, the Ukrainian cultural heritage that binds the majority of Ukrainians together as a nation:
Taras Shevchenko's legacy, Ukrainian language, and the Ukrainian 'national idea' of the last two centuries … appear to be meaningless, second-rate or blasphemous to a large number of Russians. Generations of Russian intellectuals have turned belittling (sic) of the Ukrainian language and culture into a part of the Russian belief system, alongside anti-Tatar and anti-Muslim stereotypes. But whereas the latter are built around national differences, what makes Ukraine stand out in this list is a dismissive attitude to any assertion that national differences exist.
The Russian Empire, whether in its Tsarist, Soviet, or current form has striven to destroy Ukraine as a nation. The Valuiev Circular (1863), which placed restrictions on publishing in Ukrainian, articulated this existential blindness, this inability to see Ukrainians as "the other." The document noted that "a separate Little Russian language has never existed, does not exist and cannot exist." Putin in a conversation with George Bush has shown that this view had passed undiluted to him along with the double headed eagle and the imperial dreams of the Tsar. "You don't understand, George, that Ukraine is not even a state. What is Ukraine? Part of its territories is Eastern Europe, but the greater part is a gift from us." I recognize, of course, that not all Russians share this view. However, it is prevalent enough to dominate Russia's foreign policy towards Ukraine as witnessed by the words of the Russian president. Russia's aims move beyond destroying Ukraine now. Putin seeks to restore the Russian Empire while refashioning the world, shearing America from Europe, and dismembering the EU into easily dominated fiefdoms. Ideally, these would be ruled by mini fascistoid versions of himself. He is positioning himself as the global leader of social conservatism and in opposition to economic and social liberalisation. The propaganda machine will be used to further these aims by demoralising and destabilising the West. As Peter Pomerantsev noted in Foreign Policy,
You begin to see a very 21st century mentality, manipulating transnational financial interconnections, spinning global media, and re-configuring geo-political alliances. Could it be that the West is the one caught up in the "old ways," while the Kremlin is the geopolitical avant-garde, informed by a dark, subversive reading of globalization?
The mechanisms which Putin has deployed for his attack include:
Agents of influence. A motley crew of politicians, businessmen, royals; anyone with leverage who likes a big wad of cash and isn't too fussy about where it came from.
As Pomerantsev notes,
This is a world where the old geo-political paradigms no longer hold. As the Kremlin faces down the West, it is indeed gambling that old alliances like the EU and NATO mean less in the 21st century than the new commercial ties it has established with nominally "Western" companies, such as BP, Exxon, Mercedes, and BASF. Meanwhile, many Western countries welcome corrupt financial flows from the post-Soviet space; it is part of their economic models, and not one many want disturbed.
Russia is moving to localize production of a vast number of Western products. The ties between Russia's and Western power companies are well known.
Networks of journalists and "experts" ranging from outwardly respectable figures such as Seumas Milne, to ones with a less healthy public image such as Slieboda.
Left wing sites such as Counterpunch and Global Research, which craft an alternative reality for their readers in which the swastika flies over Kyiv. The UK green movement denies the accusation of it being linked to Russia. However, Oliver Tickell, editor for The Ecologist, also writes for Counterpunch and in turn republishes Ukrainophobic articles from their site.
Political proxies such as Stop the War, which oppose bombing Iraq but send up ragged cheers as shells fired by the "anti-fascist front" fall on Ukrainians in Sloviansk
PR Agencies and consultancies paying for web content.
The Troll army of paid internet commentators all working to a script.
Putin's modern mechanism is building on centuries of prejudice. Derogatory views of Ukraine were originally transmitted into the West via cultural ties and literature.  The Soviet Union and subsequently Russia launched a campaign to stigmatise Ukrainian national identity as "Fascist" or "Nazi." This last element has developed into a key component of the current attack on Ukraine, which refers to the Revolution of Dignity as a coup undertaken by Nazis.
The most powerful weapons in Putin's arsenal are of course financial and business links
We can understand certain elements of his program by looking at the centerpiece of Russia's machinery: the Russia Today channel. An analysis of its content suggests that Russia Today serves several purposes:
disseminating conspiracy theories tinged with anti-Semitism to erode public trust in Western governments;
purchasing influence over politicians by granting them air time to gain support for Russia's hostile actions towards other countries;
providing lucrative opportunities for journalists who then spread misinformation regarding the atrocities committed by Russia's proxy terrorists;
softening up public opinion in the West to allow an invasion of Ukraine to take place and boost tolerance for subsequent genocide/ethnic cleansing by stigmatizing Ukrainian national identity.
The channel provides a forum for 9/11 truth seekers and has uploaded 56 videos promoting conspiracy theories on Youtube. The aim is to discredit the USA by suggesting that 9/11 was in fact executed by the American government. Russia Today complements this by providing a platform for Ry Dawson who is presented as a "human rights activist." He is in fact a notorious Holocaust denier who is endowed with credibility by having his platform on the channel.
The channel provides air time to British politicians George Galloway and Nigel Farage. It is effectively providing a financial conduit for Russia to directly influence British MPs. In turn, they are molding public opinion to prevent Britain from condemning Russia's attack on Ukraine. The Russian state hopes to simultaneously destabilize Britain by boosting support for parties on the extreme right and the sectarian left of the political spectrum. Globally, the channel is one of a number of tools deployed to achieve Putin's geopolitical aims. After the MH17 crash, the propaganda got so bizarre that even some of RT's reporters couldn't stand it and resigned.
So what can we do about it?
There is no point simply challenging the lies pouring through this torrent of channels. We have to demolish the structures which Putin has created. This requires leadership from the global Ukrainian community and its allies. It demands an analysis of Putin's machine to determine its vulnerable points. Ukrainians who have had years of verbiage to endure from Russia's proxies have much to contribute here. It will demand the development of a strategy whose outlines we can see now. I will not deal with the obvious points about going after Putin's money and achieving energy independence. The points below focus on tackling the propaganda machine:
Legislation must be passed barring politicians from receiving payments from foreign firms and lobbyists. Politicians who have ties to such agencies must be barred from office. The brands of companies which insist on doing business with Russia must be damaged by negative campaigning to highlight their ties to this unpleasant regime.
Russia Today must be banned from every country in which it operates. The content of the channel and its use as a tool of influence can be turned against it. We must also discredit every politician and journalist who has worked for them by exposing their lies. We must ensure that any editor is wary of employing paid agents of influence, by using these links to damage the paper's brand. The Russia Today columnist Sara Firth resigned over the lies she was compelled to tell regarding MH17 and the channel's directives to journalists such requiring they construct fake social network profiles. Let's make sure that any paper is wary of damaging its image by employing people who have in all probability been paid to lie about and attack Ukraine. The Guardian has allowed unadulterated FSB fabrications to slip onto its pages. In the past they have published comments that were demeaning and denigrator towards Ukrainians and others. Let's call them on it.
The troll army cannot be "out-tweeted." We must discredit them by promoting awareness of these rather sad RUB tweet slaves. We must ensure that every pro-Kremlin tweet is automatically dismissed by most people by continuously publicizing this mindless, miserable internet army.
The press must be compelled to accept a code of practice on the representation of Ukrainians and other minorities. This is not about political correctness but about respect and ensuring that journalists do not incite antipathy towards ethnic minorities. Papers must adopt guidelines blocking the publication of articles on Russia-related themes by journalists who receive money from Russian entities.
Political proxies such as Stop the War must be exposed and discredited at every turn. This will be relatively easy since their whole approach to Ukraine is based on enormous distortions.
We must form alliances with other agencies who share our aims. There are British politicians who feel queasy at the extent of Russian influence in the UK. The LGBT community must not relish the possibility of Farage coming to power.
We must promote Ukrainian culture and dispel the myth that it is second rate, an appendage. The perception of Ukrainian as inferior has facilitated an attitude of indifference and a lack of empathy for the country and its plight. If Ukraine exists in people's hearts, if they treasure its culture, they will care about its fate. The Executed Renaissance is one of the most tragic but also most inspiring events in literary history. We must make sure that Ukraine's writers and its voice are heard and that Antonych, Shevchenko, and Ukrayinka are as renowned as Balzac and Chekhov.
The demeaning view of history where Ukrainians are essentially cast as the villains is based on distortion, exaggeration and omission. We need to work to promote, simply, the truth, particularly regarding the Holodomor. Ukrainians were overwhelmingly the victims rather than the perpetrators of crimes committed by Stalin. A series of campaigns which promote the truth will, along with Ukraine's growing political power, help us bring about a paradigm shift. The signs of such a tectonic movement are already there in the work of Timothy Snyder. However there is much further to travel.
We must expose the prejudice outlined in this article and, sadly, shared by so many Russians. The West has to realise that the roots of the largest genocide in a single European state lay in this ethnic hatred and that it was shared by great Russian authors such as Brodsky. At present western authors familiar with this denigratory attitude towards Ukrainians often condone or endorse such views. We must, by publicising the unpleasant comments of Balyckyj, Kaganovich and, shockingly, Brodsky ensure that it is viewed with disgust.
The destruction of the empire on the streets of Kyiv must be followed by the demolition of the empire in the Western imagination
Example of Russian propaganda. From juliadavisnews.blogspot.com
Putin is vulnerable because the hierarchical, hermetically sealed system he is pitting against globalization will not survive in an increasingly interconnected world. Its weakness was demonstrated when Russian denials of shelling Ukraine were undermined by Facebook postings by his own soldiers. I agree with Peter Pomerantsev that Putin has produced a reading of globalization and a strategy for defining Russia against the West. However, the Russian President's view is that of man afraid of change, seeking to create a Russia of servile worker bees sealed from the light. This world will have its own enclosed media and internet while its elite glide the streets of London and Paris in Bentleys. The cracks are already showing and its great weakness, that it is based on creating a fictional view of the world founded on massive lies, can be used to destroy his propaganda apparatus. Putin believes in the power of the lie, as he said to a gathering of Jews recently, "The bigger the lie the more people will believe it". He attributed the quote to Goebbels who he said was a "talented man… who achieved what he wanted." The words were in fact spoken by Hitler and Goebbels ultimately committed suicide and killed his own children. Lies always catch up with you. Putin thinks they are a weapon in his arsenal but they are one of the tools with which we can excavate his political grave. Let's grab a spade and start digging.
By :Steve Komarnyckyj
[email protected]
Tags: Featured, International, Putin, Russia, Russian propaganda