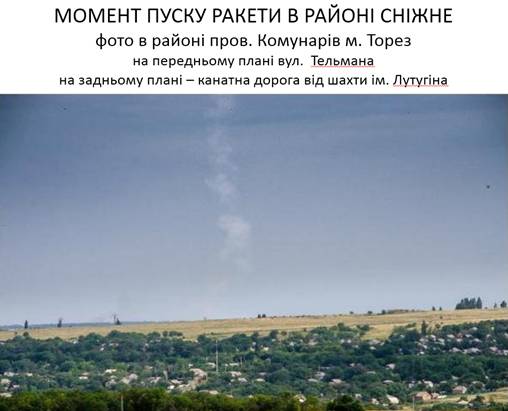 Security Service of Ukraine has undeniable proof of the Boeing-777 plane being shot down with a surface-to-air missile complex BUK-M transferred with crew from Ukraine to Russia. Vitaliy Nayda, SBU department head, told these at a briefing in the crisis media center.
"SBU is conducting investigation and getting undeniable proof of Russian citizens being involved in the terrorist act", Naida said. He claimed the proof has been conveyed to all international partners of the Security Service. SBU is working directly with Dutch police and law enforcement of other countries the citizens of which fell victim to the July 17 terrorist act.
Two headlines by Russian news agency ITAR-TASS before and after the terrorist act. The headline on the left reads "DNR militia seizes air defense unit with BUK surface-to-air missile complexes". The headline on the right reads: "LNR press-service: the militia in Eastern Ukraine doesn't have BUK anti-air complexes".
The SBU representative showed journalists a photo of the BUK-M launch vehicle on a street of Torez town and also a photo of a convoy with the launch vehicle moving through Donetsk oblast.
BUK-M1 in Torez
BUK-M1 in a terrorist convoy (Donetsk region)
Apart from that, a photo has been published taken during the launch of a rocket in the vicinity of Torez near the settlement of Snizhne which shows a vapor trail of the rocket that shot down the Boeing-777 carrying civilians. Vitalyi Naida noted that the Security Service has precisely identified the launch site which is situated in the region controlled by terrorists and Russian military personnel.
The moment of the rocket launch around Snizhne. Photo taken around Kommunariv lane in the town of Torez. In the forefront there's Telmana street, in the background there is a cableway from the mine named after Lutugin.
The SBU representative also told that the Russian side ordered the terrorists to withdraw all BUK-M launch vehicles from Ukraine.
Around 2 AM on July 18 two tow trucks each carrying a BUK-M launch vehicle crossed the Russian border in Luhansk oblast. Around 4 AM of the same day 3 other tow trucks crossed the border – one empty, another carrying a launch vehicle with four rockets and the last carrying a military vehicle, apparently a control module.
BUK-M1 heading towards the Russian border.
He told that Russia was making attempts to hide the proof of its direct involvement in the terrorist act.
Source: sbu.gov.ua
Translated by Kirill Mikhailov
Tags: Buk, Donbas, Donbas war (2014-present), Russia, SBU, Terrorism