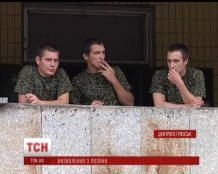 Four soldiers from the Zakarpattia and Chernivtsi oblasts and an activist from Luhansk were held in captivity for 28 days. They were freed Monday, July 14, in exchange for five detained separatists. Now they are staying at one of the hospitals of Dnipropetrovsk. Despite their freedom, the men are still in shock, according to a TSN story broadcast Tuesday, July 15.
From a medical perspective, the five men, who were first brought to one of the hospitals in Dnipropetrovsk, appear normal. Doctors say they have not detected injuries from beatings, but the men say what they experienced was torture — the psychological kind.
"Each day they told us it was our last day, that they didn't need us. And that if they did let us go, we would not be accepted because we were deserters, that we were captured with weapons," said Yaroslav Hryhoriev.
The  soldiers say they were captured when their units were sent to the battle zone to retrieve the wounded. On their way back, they were ambushed by the  terrorists and captured after they ran out of ammunition.
Every day they were sent to work, forced to dig trenches, and even give interviews to Russian television stations. Later the soldiers found out that in their broadcasts the Russian journalists presented them as deserters who had been forcibly mobilized.
Yurii Davletshyn is the only civilian among the captives freed from terrorist captivity. The Luhansk activist, head of a neighborhood committee that dealt exclusively with community issues, was accused by the terrorists of complicity in murder. Yurii was seized in his apartment during the night, after terrorists broke down his door and terrified three young children.
Negotiations for the release of the five hostages were carried out by dozens of people — from volunteers to OSCE representatives. The men do not know who they were finally exchanged for. Ahead of them are interviews with security representatives and the continuation of their service. However, they will no longer be sent to the war zone. Their families, who for two weeks after their capture had no information on their whereabouts, are overjoyed.
By: TSN Correspondent Olena Usenko
Translation: Anna Mostovych
Source:
TSN

Video
 (Ukrainian and Russian)
Tags: Donbas war (2014-present), Hostages, Russian mercenaries, Russian military crimes, Terrorists, Torture, Treatment of Ukrainian prisoners, Ukrainian prisoners of war (POWs)