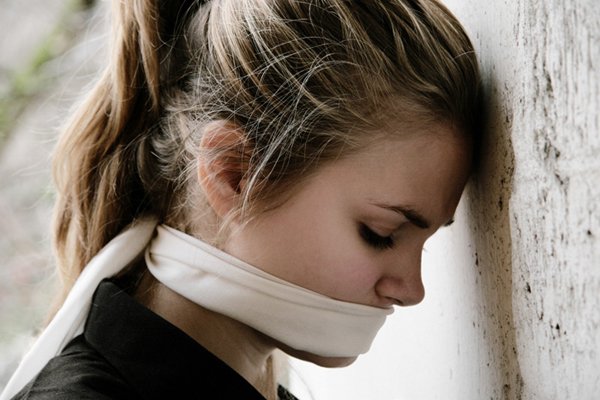 Media stays silent about this topic: Sexual slavery is taking place in the occupied town of Luhansk.
In the occupied office buildings of Luhansk Oblast [region], there are not only men in captivity, but also women (girls), but Ukrainian media often unknowingly remains silent about this issue, while Russian TV channels hide it based on orders coming from the Kremlin. As I learned from the parents of Marina K., their 18-year-old daughter was held in the building of the Luhansk SBU, and together with her in a small room with sealed windows there were about 40 other girls from Luhansk, all aged from 17 to 22 years old. Marina's parents asked for help from Ukrainian police, internal investigative forces, even Russian journalists (since there was no other alternative), but all to no avail. Yesterday, Marina's mom found my number on Facebook, called me and told me the following story:
"July 6th was the first time when Marina told me (her mom) where she (Marina) was, she called me from an unknown number and said that she was still alive, but was taken by the rebels and was held captive in Luhansk at the SBU building."
A further telephone conversation went as follows, as explained by the mom:
"What are you doing there, why did you not call me earlier?" –asked Mom.
"I did not call because they don't allow anyone to make a phone call. Right now all the insurgents are asleep because they are drunk and I was able to quietly take one of their phones and make a call. There are many of us here, about 40 people, all girls about my age, maybe a couple of years older. They (rebels) promise to release us after their victory, but when that actually happens–nobody knows" –answered Marina.
"Why do they need you as their hostage? Do they hit you?" –asked Mom.
"Sit down, it will be hard for you to hear this… they don't beat us as long as we do what they ask us to do… we help them to… "relax" after the battles. You know what I mean?" –answered Marina.
"They rape you?" –cried Mom.
"They stick us with needles that have some mind-numbing substance, which forces us to stop thinking temporarily, and during that time they do with us whatever they want. Girls here are constantly changing, new ones arrive, while others are taken "to work" at checkpoints, then they do not come back here again. I don't know what happens to them. I might go mad soon. " –confessed Marina.
At the end of the conversation, Marina said: "Oh, Mom, I think someone's coming. I'll try to call you if I can again…" and hung up.
"She never called me back." said the mom. "Where she went and what she is doing now, I don't know. I can't even imagine what they are doing with these girls at the checkpoints where they are taken to. Surely, they are not taken there to sing songs! " –said the mother and cried…
After that, I only have one question for the President. When will he give a military order "to invade the town of Luhansk?" Petro (Editor's note: the Ukrainian President's first name is Peter), if your Anti-Terrorist attack will continue to unfold at this slow pace, where people in charge tell you they need more time, then Luhansk might not have anymore people left in it much longer, and those who do survive will not want to go on living after the horrors they experienced while living in this occupation.
By Vsevolod Filimonenko, journalist at VEZDE
Translated by Denis Gregoriev and edited by Voices of Ukraine
Tags: News