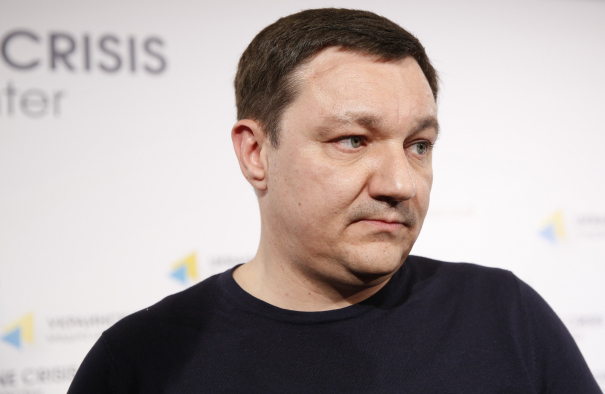 Dmytro Tymchuk, head of the Information Resistance group 
Russia is preparing to send its special forces from Rostov Oblast into Ukraine. The news portal Ostrov reports this news from Dmytro Tymchuk, coordinator of the Information Resistance group, who spoke at a press briefing.
"Last weekend we received exhaustive confirmation about this, and we can say this with certainty," he said. "Special forces groups are arriving in Rostov Oblast. These are regular intelligence and diversionary brigades from Russian Military Intelligence Operations (GRU). According to information we have, the unit commanders anticipate being sent into Ukraine on the fifteenth (of July). This date has flashed on more than once in information we have been receiving."
Tymchuk claimed that as of today, the Russians are deciding how these units are going to be sent into Ukraine.
"They expect that they will be called peacekeepers and that Russia is getting ready to introduce its own so-called peacekeeping forces into Ukraine," the expert stressed. "Or they will be 'green men' like those in April (in Crimea)."
He saw as motives for this "a feeling that the terrorists in the Donbas are in their last days" and Russia trying to rescue its situation in any way possible.
In Tymchuk's opinion, Russia is sending forces to Ukraine's northern border where there are no combat operations taking place in order to divert Ukrainian forces' attention from the Anti-terrorist Operation (ATO) zone.
He also did not rule out the possibility that Russia is reviewing possibilities of direct intervention in Ukraine by seeking out justifications for it.
He reminded the press that according to news Information Resist has, regular Russian military are already being sent onto Ukrainian territory. At the same time, according to Tymchuk, they are in Ukraine without documents "in the manner of the little green men" to make it impossible to prove their presence in Ukraine.
"We know from two sources on the territory of the Russian Federation that they are anticipating that if they are taken captive, they will be retroactively dismissed from their units," he said. "And then they will say things like (Igor "Strelkov") Girkin said, when he claimed he was an FSB officer who had resigned earlier."
According to Tymchuk, the deployment of regular Russian Federation forces is, among other things, a result of local militants having become demoralized.
Translation by William Risch, Georgia College

Source
Tags: Donbas war (2014-present), GRU (Russian Military Main Intelligence Directorate), Russian military