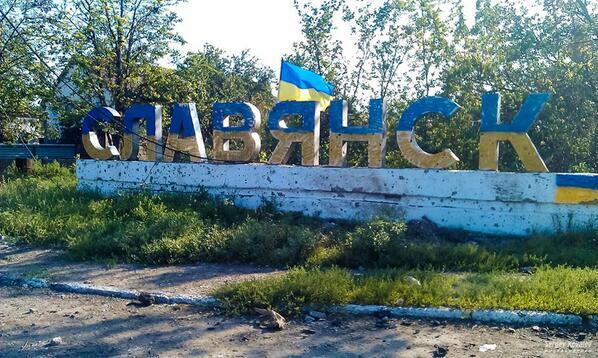 Terrorists were planning the blow up their firing positions in residential buildings in Sloviansk, but failed to do so due to technical glitches.
During their retreat from Sloviansk, the armed militant groups had intended to blow up residential buildings, Andriy Lysenko, the spokesman of the National Security Council, stated at a press briefing on Sunday, July 13, reports ZN.UA.
"Yesterday, ATO (antiterrorist operation) engineers discovered and neutralized explosive devices in residential buildings," even though they were set in such a way as to make it impossible to defuse them, Lysenko  said.
According to Lysenko, during inspection mobile phone components and electronic circuits were discovered "which indicates the possibility the militants were planning to blow up their firing positions in residential buildings. However, at the time of the retreat, the mobile communications malfunctioned and they were not able to carry out their bloody plan, which would have resulted in numerous casualties among the civilian population," Lysenko said.
He also reported that Russian food products and medicines  were found in the mined apartments where the militants had set up their firing positions. Instructions for using the various types of explosives were also found.
"Over the last few days, engineers have located hundreds of explosive devices. The effort to restore vital functions in the cities liberated from the thugs continues," Lysenko said.
Translation: Anna Mostovych