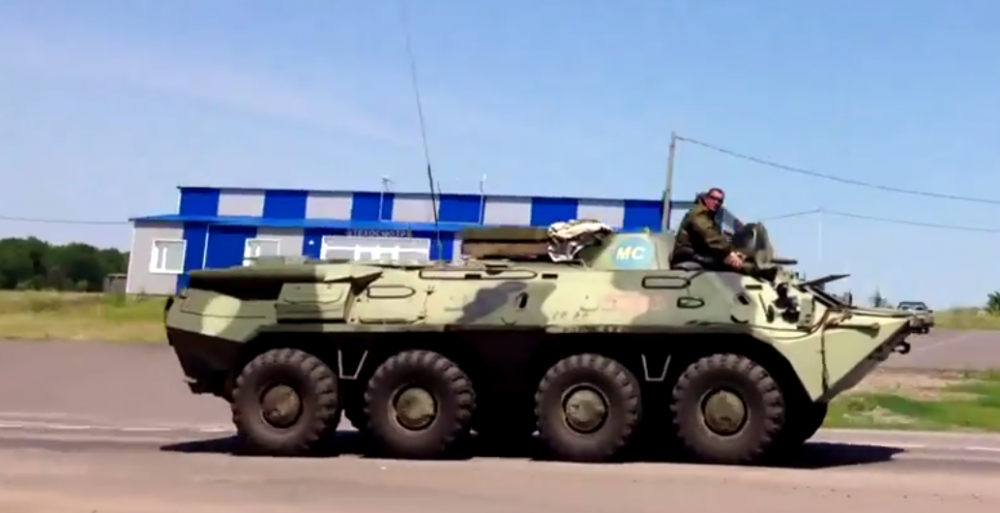 An armored column of Russian personnel carriers allegedly recorded near Belgorod were seen with blue 'peacekeeper' (MC) markings fixed to their rear. This story was affirmed by Mark MacKinnon, senior international correspondent for The Globe and Mail. Street signs in the video confirm the column to be near Razumnoye.
Russian APCs, in vid allegedly taken in Belgorod region near Ukraine border, seem to have blue "peacekeeper" markings http://t.co/cKLAXbRQSS

— Mark MacKinnon (@markmackinnon) July 11, 2014
Throughout the day, multiple witness accounts of the symbol appearing on Russian military units in the region were also uploaded by separate users, strengthening the supporting evidence of the 'peacekeeping' convoy operating dangerously near Kharkiv.
There has been no official explanation for the units' presence, but Russia has ratcheted up rhetoric and claims of Ukrainian forces shelling positions in Russia in recent days. Pretext for the invasion of Georgia in 2008 also included claims of Russian peacekeepers dying in Tskhinvali during the Georgian military response to the ongoing South Ossetian insurgency. A similar assault is precipitating in both Donetsk and Luhansk, where Russian-backed insurgents are concentrated and largely surrounded.
Below is a gallery of other Russian 'peacekeeping' units bearing the blue MC mark, principally during the occupation of Georgia / South Ossetia.
Tags: exposed on social media, Featured, News, Russia, Russian military