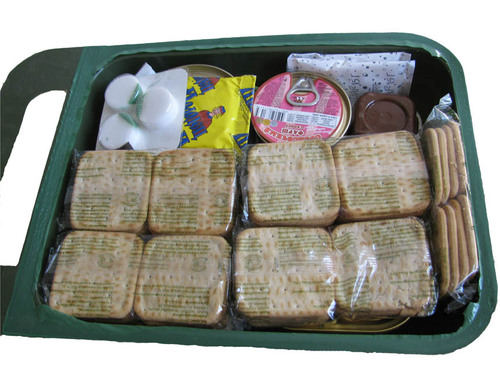 This was stated today, on July 1st, during a briefing in the Ukrainian National Information Agency "UkrInform," reported the head of the Central Headquarters for Food Provision of the Armed Forces of Ukraine of the read forces of the Armed Forces of Ukraine polkovnik Oleksandr Andrukh.
"As of today, 130 thousand everyday packs and 1300 group meal packs (for 10 people) have been produced," said polkovnik Oleksandr Andrukh.
"These meal packs are different from the previous ones whose best-before date was only 9 months. The best-before date of the newly-developed meal packs is up to 2 years. Their nutrition value has been increased significantly, not it constitutes 4243 calories, which is 600-700 calories more than in the previous ones. The packaging has also been changed, it is adapted to storage in any conditions and has already proved itself during delivery via air," he added.
According to him, the group meal packs have 3939 calories each. They hold foods for a three-meal schedule.
The group meal packs include wheat flour biscuits – 350 g, canned meat (fried high-quality veal) – 367,5 g, canned meat (liver pate) – 100 g, various grains (or pasta) – 270 g, various soup concentrates – 36 g, canned vegetables – 120 g, sugar – 90 g, black natural tea – 6 g, vegetable spices – 7 g.
It should be noted that in March 2014 the Defence Ministry of Ukraine received 300 thousand meal packs from the armed forces of partner countries, in particular, the US. Several days ago, over 77,5 thousand meal packs have been received from Norway. All of them have gone through customs and will be delivered to the soldiers in the ATO zone in the nearest days.
Source: MIL.gov.ua
Translated by Mariya Shcherbinina