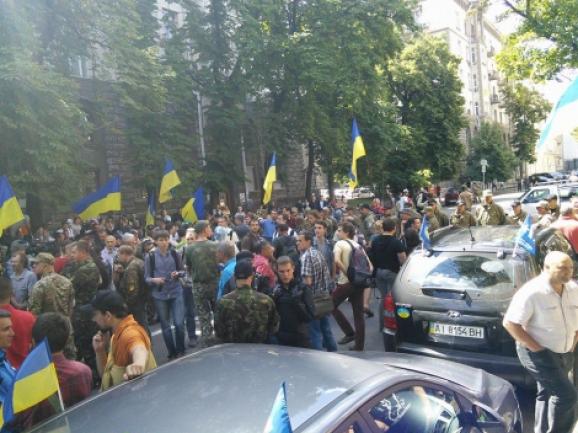 Participants of the volunteer battalions Donbas, Dnipro, and Aidar, the Council of Maidan's sotnias, and civic organizations of Maidan held a rally on Sunday June 29, demanding Poroshenko end the ceasefire on the East and declare martial law. The rally was held not far from the President's administration.
As part of the rally, Donbas battalion representatives made public their demands to the President:
1. Stop the ceasefire.
2. Declare martial law in the East.
3. Provide the volunteer battalions with weapons and allow them to eliminate the terrorists.
4. Keep his electoral promises regarding social provision for the soldiers.
5. Demand the West to impose third-level sanctions against Russia.
The protesters handed the demands to the President through the first deputy head of the Presidential Administration Ghennadiy Zubko, who spoke at the rally, stating the need to negotiate and to continue consultations on the situation in the east of Ukraine, but his speech was interrupted with whistling and exclamations "Balabol," "Shame," "demagogy!"
Later, the leader of the Donbas battalion made an additional demand – to remove Medvedchuk, Shufrych, and "other traitors" from negotiations with the terrorists of the East.
Speaking of the negotiatiors, Zubko told the audience that Leonid Kuchma was the only official representative from Ukraine. As for
Viktor Medvedchuk and Nestor Shufrych, they are, in his words, "intermediaries who have assumed the function of negotiating."