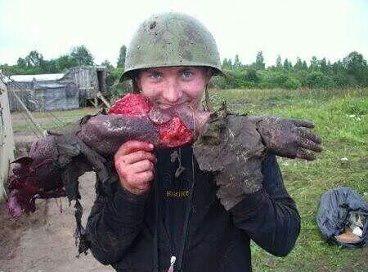 Russian propaganda has reached Rome. 
Aggressive Russian propaganda became the object of discussion in Rome during the meeting of Georgian, Moldovan and Ukrainian ambassadors with journalists.
At the end of his speech, the Ukrainian ambassador in Italy Yevgen Perelygin noted that "he has to explain something else, as Russian propaganda has reached Italy already." And cited the recent statement made in the Parliament by member of the populist movement "5 Stars" Marta Grande, who claimed the existence of "filtering camps" in Ukraine for "eastern rebels" and about Ukrainians that "kill Russians just because of their nationality." The member of the Parliament finished her speech citing a photograph in which a "Ukrainian soldier is holding a semi-burnt arm of a woman's corpse with a smile on his face" and added that it is the "quintessence of criminal policies in Ukraine."
The Ukrainian ambassador demonstrated the photo she was talking about, that in reality the picture was taking during the filming of the Russian sci-fi film "We Are From the Future" in 2008. According to Yevgen Perelygin, it is not the first time Russian propaganda is using such fakes to accuse the Ukrainian government, and during the Russian-Georgian war it tried to discredit the Georgian government in the same way.
The Ukrainian diplomat asked the Italians not to forget history lessons and not allow the economic interests to take precedence over democratic values. Deutsche Welle does not exclude that the Ukrainian ambassador was hinting at the recent warm welcome the Russian President Vladimir Putin received in Vienna. This week the Austrians signed a document with "Gasprom" regarding the construction of "South Stream" gas pipeline around Ukraine.
Source: TVi
Translated by Mariya Shcherbinina
Tags: News, Russian propaganda