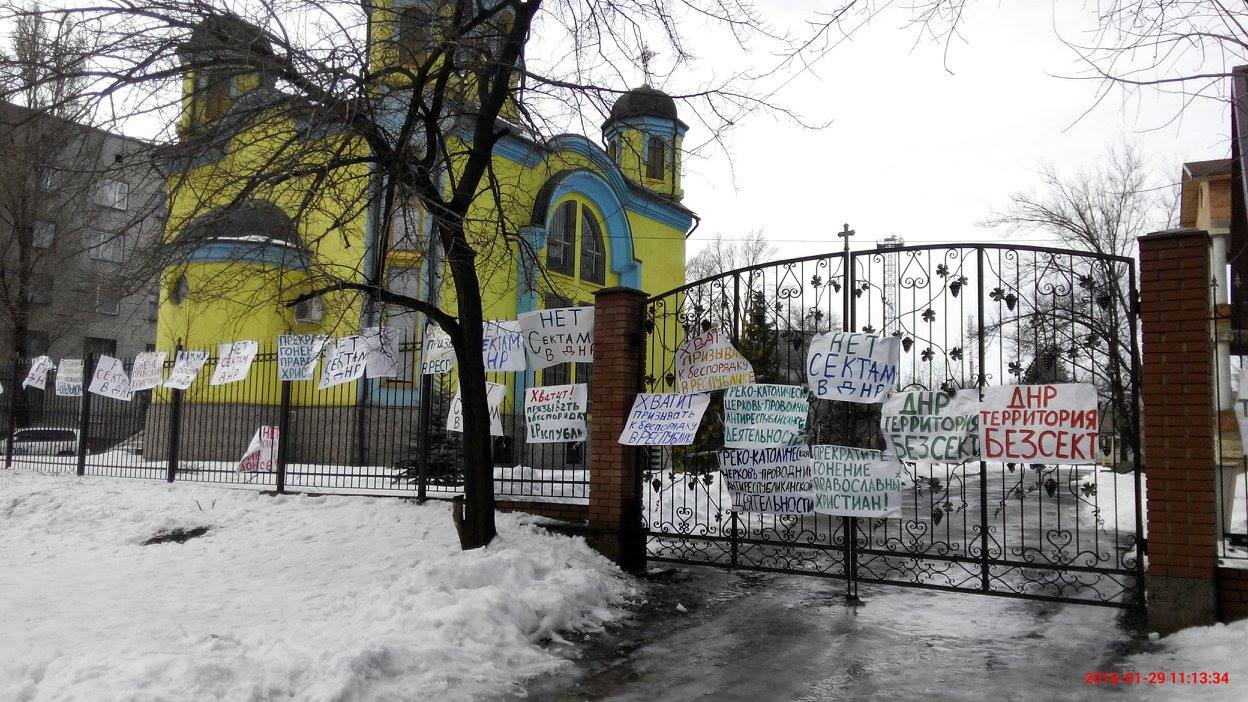 Ukrainian Greek Catholic Church in occupied Donetsk 
A rally was held in occupied Donetsk to protest against the Ukrainian Greek Catholic Church of the Intercession in Donetsk (2b Vasnetsov Prospekt), labelled by the organizers as a "CIA-linked sect". About 500 people gathered near the church; many of them arrived in hired buses. Prepared posters were handed out to the protesters.
The protesters claim that they oppose sects, especially the Ukrainian Greek Catholic Church, which is "forcing people to ​​unite with Ukraine".
The initiator of the rally is Molodaya Respublika (Young Republic), a youth group controlled by the "DNR".
Serhiy Kondrykinsky, member of the "DNR" and head of the youth movement declared that activities of sects in the occupied territory are sponsored by the CIA.
"We have dealt with this issue in depth; we have seen how they try to involve young people, how young minds are "processed" and we know where the funding of these sects comes from. Here, it's clearly the work of the CIA."
He added that the activities of the Greek Catholic Church in Donetsk are "machinations of the West".
The meeting lasted about 40 minutes. The protesters dispersed quickly…
Tags: DNR ("Donetsk People's Republic"), News, occupied Donetsk, sect, Ukraine, Ukrainian Greek Catholic Church