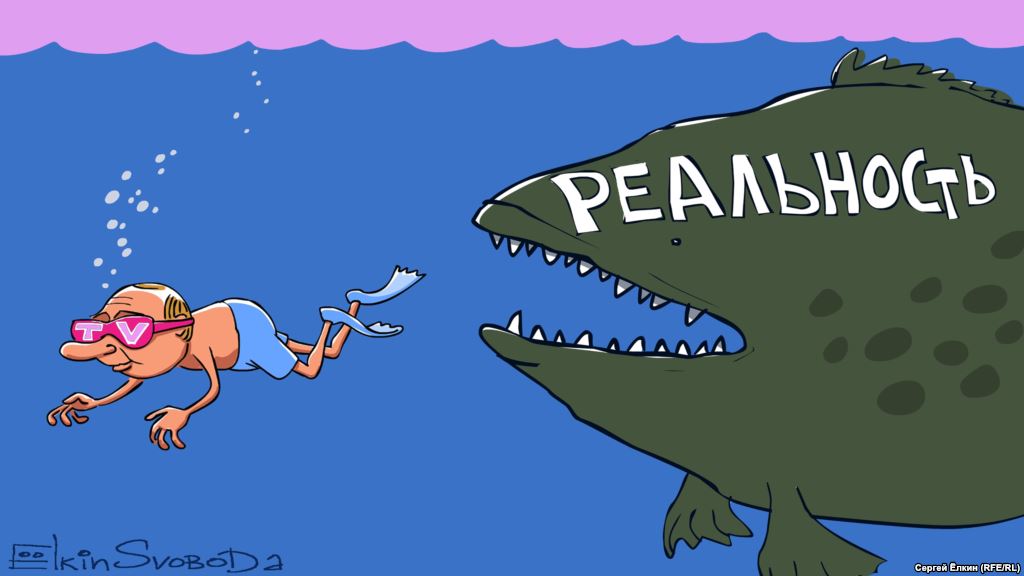 "Reality," cartoon by Sergey Elkin 
The "Turkish Stream" idea provides additional evidence of Putin's self-delusion in foreign policy.
Russian President Vladimir Putin intends to meet with his Turkish colleague Recep Tayyip Erdogan in an attempt to salvage one of his own ventures — the Turkish Stream project.
In Moscow they call this project Putin's personal initiative, which has not been seriously worked out with experts and which has become proof of the self-delusion that Putin demonstrates in conducting the foreign policy of his country. Putin was furious that the EU had not allowed Russia to build the South Stream gas pipeline without fulfilling the relevant EU's requirements and so he decided to "punish" the Europeans. Without any prior consultation with other project participants, he announced the suspension of the negotiations and the construction of the South Stream while putting forward the Turkish Stream alternative instead.
From the very beginning it was unclear how Turkish Stream was supposed to function, since Putin argued that the European countries needed to build the gas delivery infrastructure from the Turkish borders themselves and existing agreements did not provide for it. Nevertheless, preparations for the construction began and Putin even promised that Russia would participate in building sections of the gas pipeline in Greece.
But here it turned out that the biggest problem was not with the European Union but with Turkey. President Erdogan supported his Russian colleague's initiative. However, in return, he demanded a significant reduction in gas prices for his country. Turkey and Russia agreed to a discount on Friday, July 31, but until that time the Turkish gas companies had absolutely no interest in discussing construction of the pipeline with Russia. Moreover, Ankara agreed to build only one branch of the pipeline — to deliver gas to Turkey. But in order to become an alternative gas pipeline, Russia would need to build four branches. But Turkey no longer accepts that option.
Against this backdrop, Gazprom's dependence on Ukrainian transit became obvious even for such an amateur and fantasist as Putin. The Russian president ordered that negotiations with Ukraine on the gas transit continue. But the negotiations on the construction of the Turkish stream have ended in a complete fiasco. And right now the two sides are relying exclusively on the presidents. Putin really wants to discuss the future of his phantasmagorical invention with Erdogan. However, even the date of the meeting of the leaders of the two countries has not yet been set. In the Kremlin they could only say it would take place in the fall.
Tags: gas pipeline, Portnikov, Putin, Turkey