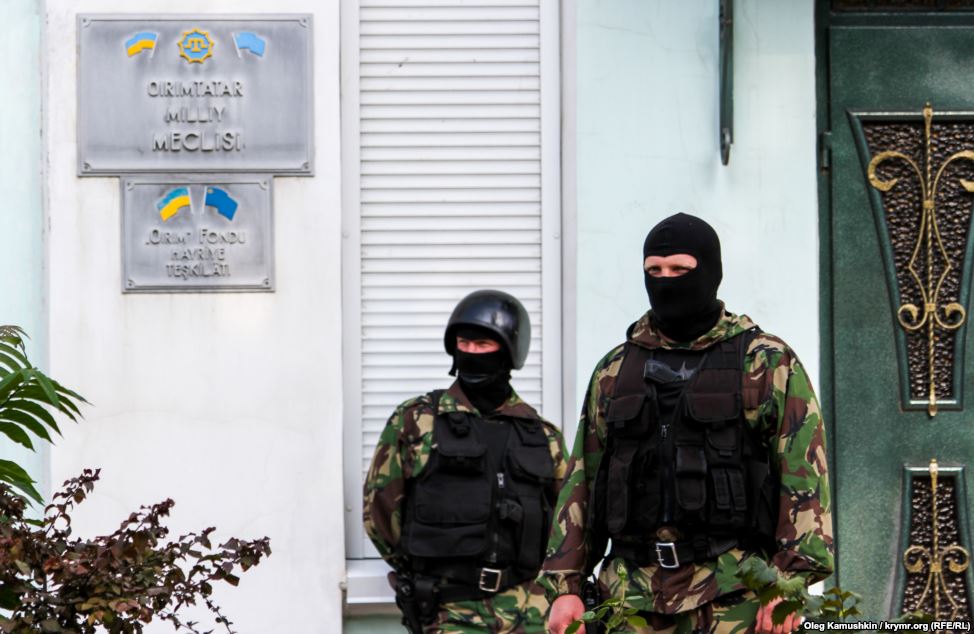 Crimean Tatar Mejlis raided and searched by Russian police in balaclavas. 
Riza Asanov, president of the Warsaw-based Crimea Foundation, has sent an open letter to Russian Foreign Minister Sergey Lavrov demanding that Moscow end what he calls "the hybrid genocide" of her nation, the Crimean Tatars, in the Russian-occupied Ukrainian peninsula.
Having just returned from Crimea, he writes, he found that the situation there is diametrically opposite to the descriptions Lavrov and other Russian officials have given and that he feels compelled as an independent Crimean Tatar activist to try to set the record straight.
It is clear "to the unaided eye" that the Crimean Tatars have been reduced to the status of second class citizens in their homeland. To give but one example, in a school where Crimean Tatars are 40 percent of the pupils, the authorities have banned instruction in their national language — despite Crimean Tatar having been declared a state language on the peninsula.
The "polite" people Moscow talks about have become crude and violent executors of state power against the Crimean Tatars, harassing those who display the Crimean flag and opening criminal cases without cause against them and indeed randomly at members of the Crimean Tatar community.
Even as it is keeping Mustafa Cemilev from coming to his homeland, Russia is punishing his son for a crime he is alleged to have committed not in Russia but in Ukraine, although it finds ways to avoid having one of its soldiers who killed an Armenian family held responsible for his actions and even as it gives award to Russians for doing what Crimean Tatars are subject to criminal charges.
The Russian authorities refused to give permission for the Crimean Tatars to mark their national holiday, and when the Crimean Tatars went ahead anyway, the occupation forces sent helicopters over the venue in order to drown out the speeches of those taking part. They have forced Crimean Tatars to leave their government jobs and forced others to flee.
"In front of everything the Russian Federation is doing, one can add the word 'hybrid'" including "hybrid dismissals," "hybrid judicial action," and "hybrid deportation." Tragically, it is now time to speak about "hybrid genocide" against the Crimean Tatars who only want to live in their own homeland.
That is because, Asanov writes, "we do not see our future without the Motherland. [But] unfortunately, "you see the future of Crimea without the Crimean Tatars."
Tags: Crimea, Crimean Tatars, Lavrov, Riza Asanov